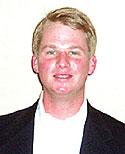 Cade Bernsen

By Anthony D. Ávila
Arizona Daily Wildcat
Monday, September 26, 2005
Print this


The hurricane that struck the Gulf Coast Saturday also impacted students at the UA, including the student body president who is gone this week after leaving to help his family in Texas.

Cade Bernsen, Associated Students of the University of Arizona president, left Friday evening for Beaumont, Texas, one of the cities hit hardest by Hurricane Rita, the second hurricane to pummel the Gulf Coast region in four weeks.

Erin Hertzog, ASUA executive vice president, will act in Bernsen's place while he is gone, which he said will probably last at least a week. As part of her duties Hertzog will give a speech on Wednesday at the Campaign Arizona ceremony and attend the Arizona Board of Regents meeting Thursday and Friday, said Tyler Carrell, ASUA chief of staff.

The Category 3 storm that came ashore through Beaumont and Port Arthur, Texas, had 120 mph winds.

After arriving in Austin, Texas, Friday and driving to Houston Saturday, Bernsen said, he and his dad took a truck to Beaumont yesterday morning to assess the damage.

Though his house was mostly spared, Bernsen described the city as having downed power lines on every street and "huge trees snapped in half that look like broken matchsticks."

"Unless you see it, it's unbelievable," said Bernsen, who was reached in Beaumont on his cell phone. "It looks like a war zone."

Bernsen said he is staying in the house with his dad this week to check on the houses of friends and neighbors who were not yet able to enter the city.

Bernsen's family, which includes his sister and parents, said they were worried about their crawfish farm outside of the city after hearing that one of the barns had blown down. Bernsen said he would inspect the damage personally as soon as he could.

Unless you see it, it's unbelievable. It looks like a war zone.
- Cade Bernsen, ASUA president

Students with families in Houston, a city of 2 million residents that was mostly evacuated, said they were relieved when Rita veered east of the city, but still experienced a scare from the storm.
Jennifer Bragman, a psychology junior, said the recent string of storms affected her because she has family that lives in both New Orleans and Houston.
Bragman said her grandparents, aunt and uncle have been staying with her parents in Houston since they fled New Orleans to escape Hurricane Katrina.
Though comforted by knowing all of her family was together, Bragman said, she was afraid another hurricane could destroy what they had.
"The thought of losing the only house we have left, the whole thing really upset me," said Bragman, who was born in New Orleans. "I was really scared, but my dad reassured me. My dad wasn't worried at all."
Bragman said she was convinced her family would be OK when she called them Friday night.
"I called them the night of the hurricane and they were watching movies," Bragman said.
Brian Block, who graduated from the UA with a communication degree in May, said his family decided to stay in Houston and ride out the storm. Their house didn't receive damage because of the changed direction of the hurricane.
Block, a third-generation Houstonian who lives with his parents in the southwest area of the city, said he wasn't worried about flooding because of the way their house is designed.
"After our house was flooded four years ago, we rebuilt a new house that's six feet off the ground," Block said. "So we decided to take a chance and stick around (this time)."
The last time Houston experienced a storm like Rita was when Block was attending freshman orientation during Tropical Storm Allison of 2001.
"I had hurricanes at both ends of my college career," Block said.
Block has a younger brother, Jordan Block, who is a theatre arts sophomore at the UA. The Arizona Daily Wildcat was unable to reach Jordan Block for comment yesterday.
- The Associated Press contributed to this report.


Write a Letter to the Editor