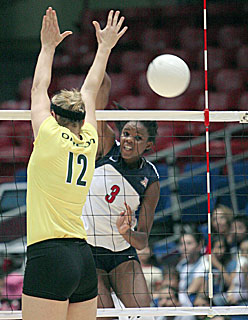 Josh Fields/Arizona Daily Wildcat

Senior outside hitter Jennifer Abernathy smashes the ball past Oregon's Kristen Bitter Saturday evening in McKale Center. Abernathy accumulated 20 kills on the way to a 3-0 sweep.

By Lindsey Frazier
Arizona Daily Wildcat
Monday, September 26, 2005
Print this


No. 15 Arizona starts Pac-10 play with two sweeps

The No. 15 Arizona volleyball team wasted no time this weekend, earning back-to-back sweeps over Oregon and Oregon State at McKale Center to begin Pacific 10 Conference play.

The Wildcats (10-1, 2-0 Pac-10) defeated Oregon (10-3, 0-2 Pac-10) Saturday night (30-20, 30-19, 30-25), as they hit .364 for the match while holding the Ducks to a .200 hitting percentage. Arizona collected seven service aces compared to just one for Oregon.

After breezing through the first two games, sloppy serving caused Arizona to miss six serves before reaching 10 points as the Wildcats fell behind 11-7 in the third game.

"Whenever you miss a lot of serves, it kind of knocks you out of your rotation," said senior outside hitter Jennifer Abernathy, who paced the Arizona attack with 20 kills and eight digs. "I think we stayed pretty steady after we missed five or six serves in a row.

"I think we pretty much knew that we need to get our heads back into the game and just go after it," she said.

Arizona was able to rally back to a 16-15 advantage and would not trail again in the game.

Despite the slow start in the third game, Arizona head coach Dave Rubio said the Wildcats played the best overall match he has seen with their group of athletes.

Weekend Summary
Friday: No. 15 Arizona defeats Oregon State 30-24, 30-22, 30-22
Kim Glass: 17 kills, 9 digs
Saturday: No. 22 Arizona defeats Oregon 30-20, 30-19, 30-25
Jennifer Abernathy: 20 kills, 8 digs;
"It's still one of the few times in recent memory that I walked out of locker room that I felt like we've played overall a really good match from the first point all the way to the last point," he said.
Senior outside hitter and two-time All-American Kim Glass added 10 kills and a team-high 12 digs to earn her sixth double-double of the season.
Sophomore setter Amy Dyck collected 51 assists and seven digs.
Arizona brought down Oregon State on Friday night, (30-24, 30-22, 30-22) getting the winning weekend off to a solid start.
Although the Wildcats managed to pull off the sweep, Rubio said he was disappointed with the team's intensity on the court.
"There wasn't much energy or excitement (Friday)," he said. "I was pleased in some senses and feel like we need to get better in others."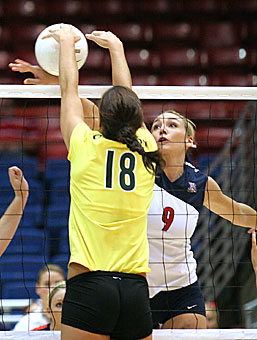 Josh Fields/Arizona Daily Wildcat
Senior middle blocker Bre Ladd guarded the net tightly during Arizona's win over Oregon Saturday evening in McKale Center. Arizona is undefeated in Pac-10 play.
Rubio noted that Arizona had 34 unforced errors that gave Oregon State (4-4, 1-1 Pac-10) a significant advantage, despite the loss.
"We gave them half the points," he said.
Senior middle blocker Bre Ladd said that Arizona's height advantage gave the Wildcats a daunting appearance.
"I think we're a pretty intimidating team," said Ladd, who collected 10 kills on 16 attempts with one error for a .562 hitting percentage. "(Oregon State is) not as physical in terms of the height compared to us. I think we're intimidating from the net."
Abernathy again led the Arizona offense with 18 kills, in addition to six digs, three blocks and two service aces.
Glass finished with 17 kills, nine digs and four blocks.
The Wildcats hit the road to take on Washington State on Friday in Pullman, Wash. Arizona continues its road trip when it travels to Seattle to face conference powerhouse No. 2 Washington on Saturday.


Write a Letter to the Editor