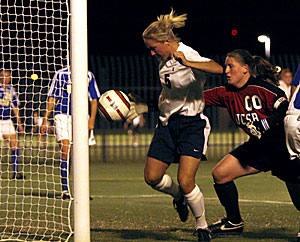 Claire C. Laurence/Arizona Daily Wildcat

Senior midfielder-forward Mallory Miller edges past UC-Santa Barbara goalie Jamie Considine to put back the first of her three goals on the evening. The No. 22 Wildcats went on to defeat the Gauchos 4-3 in last night's overtime victory at Murphey Stadium.

By Amanda Branam
Arizona Daily Wildcat
Monday, September 26, 2005
Print this


Arizona soccer head coach Dan Tobias tweaked his starting lineup yesterday because of injuries and the need to add some punch to his offense.

The changes helped, but the most important offensive jolt came from a usual suspect.

Senior midfielder-forward Mallory Miller hit the game-winner with just under two minutes remaining for her first-career hat trick, as the Wildcats snuck past UC-Santa Barbara 4-3.

"A lot of it is her work rate and worth ethic, and just her aggressiveness in the box," said Tobias after the game of Miller, who has a team-leading nine goals this season for the Wildcats (5-2-2). "She gets her chances and she puts away her chances."

Miller ended it with 1:54 left on a shot from about 25 yards out. Her other goals came in the 14th minute on an assist from sophomore midfielder-defender Nicole Scheid and a dish in the 38th minute from sophomore defender Claire Bodiya, who notched her first assist on the season.

The hat trick gave Miller her seventh goal at Murphey Stadium. Until yesterday's game, Miller was the only Wildcat who had scored a goal at home this season.

Weekend summary
Friday: No. 3 Portland defeats No. 22 Arizona, 3-0Portland forward Christine Sinclair: two goals, assist
Yesterday: No. 22 Arizona defeats UC-Santa Barbara, 4-3Midfielder-forward Mallory Miller: three goals (first career hat trick)
Sophomore Nicole Scheid finally took some of the load off Miller, netting the third Wildcat goal of the night just over five minutes into the second half.
Tobias moved Scheid to the midfield position from defense, where she had started every other game this season. It was not unfamiliar territory for Scheid, who spent most of her time in the midfield in 2004.
Although the offense scored four goals and took 23 shots (12 on goal), the Wildcat defense struggled.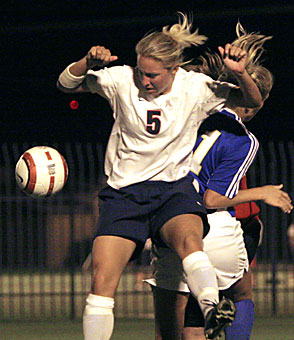 Claire C. Laurence/Arizona Daily Wildcat
Senior midfielder-forward Mallory Miller fights against a UC-Santa Barbara defender for control of the ball during the No. 22 Wildcats' 4-3 overtime victory last night at Murphey Stadium. Miller supplied most of the offense with three goals on the evening.
Arizona allowed three scores and 17 shots to the Gauchos (5-5-0), with 12 of those being shots on goal. UCSB scored in the 21st and 59th minutes and knotted the game in the 76th to tie the game at three.
Scheid said the defense was not solely to blame for the Gauchos' strong play.
"We just broke down as a team, and that's what hurt us most," she said.
Arizona's defense had its roughest weekend in some time. The Wildcats lost 3-0 to No. 3 Portland (9-0) on Friday night in Oregon.
Pilots senior forward Christine Sinclair, an offseason member of the Canadian national team, scored her nation-leading 17th and 18th goals of the season. She also assisted Portland's final goal, scored by redshirt freshman forward Megan Rapinoe.
"If you don't stick your chances early (against Portland), you're probably going to pay for it," Tobias said.


Write a Letter to the Editor