Tuesday, September 27, 2005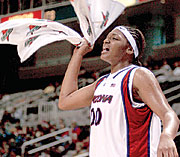 If Shawntinice Polk was in the same room you were, you knew it. Heck, if you were on the same college campus as Polkey, you probably knew it.
If somehow her 6-foot-5 inch frame didn't make her stand out in a crowd, her loud voice and booming laugh certainly did.
I had the opportunity to cover the women's basketball team during the 2003-2004 season, Polkey's sophomore year. I didn't know her like her numerous friends did, but anyone who spent any length of time around her could tell she was one who always laughed at life, whatever it decided to throw her way. [Read article]

·
Career Highlights
·
Inside the UA Athlete: Freshmen living large in small quarters
·
From the booth: Leave it to QB Kovalcheck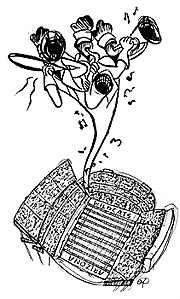 Times are turbulent for Arizona football, but there remains one constant at home football games: the Pride of Arizona marching band. The world's first alternative music marching band, yada yada. Yes, I know all that, the announcer says it before every halftime show.
But there is more to it than that. There's a passion brewing underneath each of those sequined uniforms that we don't see sitting in the Zona Zoo, salivating over nachos and Eegee's at halftime. There's a discipline - a discipline rarely fomented amongst 200-some college students. There's a love for the music and for the power one can create with all those instruments. [Read article]

·
Appoint a chief justice, not an enigma
·
Editorial: Simple hints for presidential selection
·
Mailbag
Latest Issue: September 22, 2005
Latest Issue: September 20, 2005
More than a pop culture phenomenon, yoga is growing as a route to spirituality
Spirituality has rapidly become one of the fads popularized by mainstream media and celebrities, whether it is Madonna plugging Kabbalah or Sting sculpting his body with yoga. But the practice of yoga has 5,000-year-old roots and is much more complex than its popular portrayal.
Yoga, in general, combines spiritual, physical and emotional practices to form a deeper connection with one's self and the outer world. However it is not limited to a singular definition and seems to take on a different meaning to everyone who practices. [Read article]

require('/home/webby/html/papers/98/polls/current.php')?>

showAds('bigbutton')?>






showAds('mediumbutton')?>


showAds('wildlinks')?>