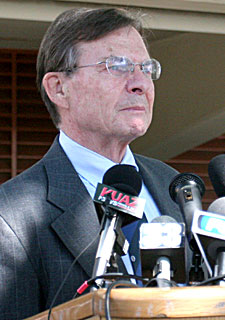 Cassandra Tomlin/Arizona Daily Wildcat

President Peter Likins addresses the death of women's basketball player Shawntinice Polk outside of McKale Center yesterday afternoon. Likins said he developed a friendship with Polk in her first semester at the UA in 2002.

By Seth Mauzy
Arizona Daily Wildcat
Tuesday, September 27, 2005
Print this


The unexpected death of UA women's basketball player Shawntinice Polk has sent shockwaves of despair and sorrow throughout the UA community.

"She's the best. I think along with Hassan (Adams) and a couple other of our guys there's probably nobody in Tucson that's better known nor better liked than Polkey," said Jim Rosborough, associate head coach of the men's basketball team. "It's just a tragedy for her family, her basketball team, the department; she's just the best."

While the team met inside McKale Center to discuss the tragedy, friends of Polk waited outside for any news about what had happened.

"She had a lot of friends, and no enemies, on or off the court," said Fedora Preston-Haynes, a public heath sophomore and friend of Polk's. "I just saw her yesterday and now she's gone. I just can't believe it; it's so sad."

Some of Polk's teammates were also outside McKale Center, still reeling from the shocking news.

"She was a caring person, and deep down she was a believing Christian," said Anna Chappell, an education senior and forward for the team. "Now she's up in heaven, but down here she was an amazing team leader."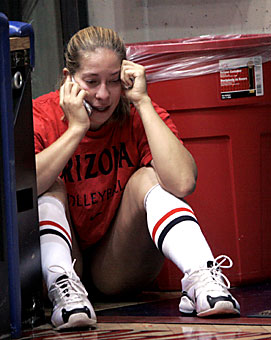 Djamila Grossman/Arizona Daily Wildcat
Senior volleyball middle blocker Angie Ayers cries in McKale Center yesterday after finding out about the death of senior women's basketball player Shawntinice Polk.
Polk's teammates remember her as a team leader and friend who was as selfless and caring as she was talented.
"Polkey was a hard-working, special, caring and strong black woman," said Joy Hollingsworth, a marketing senior and a guard for the women's team, in an instant message yesterday. "I miss my teammate and most importantly my friend. Her legacy will live at the UA forever."
Hollingsworth said she would be dedicating her entire basketball career to the memory of her friend.
In her years at the UA, the family studies and human development senior had made a name for herself as the star center for the women's team, but those who knew her said her presence was felt throughout the university and her absence will be felt all over campus.
"There was this young lady from Hanford, Calif., who absolutely had a smile that looked more like our Grand Canyon and had a personality to match and I'll never forget that," said UA athletic director Jim Livengood at a press conference. "One of our players said earlier, Polkey was for everybody, she was a constant team player, she cared about everybody, she loved everybody, that's why its hard to find a student-athlete in McKale that didn't know her."
Kirk Walters, a center for the men's basketball team, said he also knew Polk and thought nothing but good things about her.

There was this young lady from Hanford, Calif., who absolutely had a smile that looked more like our Grand Canyon ..
- Jim Livengood, UA Athletics director

"She was a great person, and she really just a lot of fun," said Walters, a pre-health education junior.
Chris Canales, a biology sophomore whose father, Michael, is assistant coach for the football team, said the football players in particular have been hit hard by the news.
"She had a lot of friends on the football team," Canales said. "There were a lot of players crying at practice today."
MEMORIAL SERVICE
There will be a memorial tomorrow night at 6:30 in McKale Center to honor and remember Polk. Visitors are asked to sit in the guest-side seating section of the arena. Donations are suggested, instead of flowers, to be contributed to a Shawntinice
S. Polk women's basketball scholarship.
For more information, call 621-936 or 621-8110.
Paul Johnson, the commentator for the UA women's team for the last 10 seasons, said he was impressed with Polk since the first time he saw her.
"Polkey was the perfect team player; she was unselfish to a fault. She always wanted to give the entire team a chance to carry a game," Johnson said. "She was very unique in the sense that she really had it all; the personality, the ability," Johnson said. "There will never be another one like her."
Johnson said Polk's outgoing and generous personality made her an ideal role model for other student-athletes.
"She had a very magnetic personality. People were drawn to her warmth and good humor, but she was very centered on others," Johnson said. "If you asked her about herself, you'd just get silence, but she was always ready to say great things about her teammates."
Friends and fans of Polk shared similar comments on her message wall on www.facebook.com, an online college student community. Ten messages were left as of press time.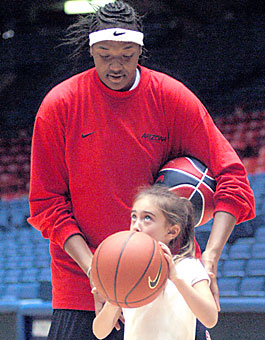 Photos by Claire C. Laurence/Arizona Daily Wildcat
Arizona center Shawntinice Polk illustrates proper technique to a participant of 2004's Youth Clinic in McKale Center.
Charde Houston, a student at the University of Connecticut, wrote that although she never knew Polk, she will always remember her from her reputation of being a great person and full of life.
"I have always admired you for what you have been through and how you managed to make the best of the situation," Houston wrote. "Just know that the UConn family heart goes out to your team and your family."
Amy Chandler, Polk's undergraduate adviser in the family studies and human development department, remembers Polk as a dedicated student who was determined to get her degree.
"In the two years I knew her, I got the sense that it meant a lot to her family that she get a degree," Chandler said. "She was not just here to play; she wanted to learn."
Chandler was also one of Polk's professors, and she recalls her presence in her dynamics of family relations class as being "uplifting."
"I was proud to have her as a student, and her family should be proud of the effort she put into her studies," Chandler said. "She would have been a great professional in the field of family and child care."
With the impending season only two months away, the team now faces the difficult challenge of replacing Polk, both on the court and in their hearts.
"She was a one-in-a-million person," Johnson said. "You don't run into someone like her often, and the team is going to have a very hard time replacing her."


Write a Letter to the Editor