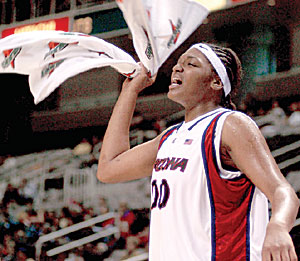 Claire C. Laurence/Arizona Daily Wildcat

Arizona center Shawntinice Polk reacts to her team's drive toward a win over Washington on their way to the Pacific 10 Conference Tournament's championship game in 2004. Polk passed away yesterday morning after reportedly collapsing in McKale Center.

By Amanda Branam
Arizona Daily Wildcat
Tuesday, September 27, 2005
Print this


If Shawntinice Polk was in the same room you were, you knew it. Heck, if you were on the same college campus as Polkey, you probably knew it.

If somehow her 6-foot-5 inch frame didn't make her stand out in a crowd, her loud voice and booming laugh certainly did.

I had the opportunity to cover the women's basketball team during the 2003-2004 season, Polkey's sophomore year. I didn't know her like her numerous friends did, but anyone who spent any length of time around her could tell she was one who always laughed at life, whatever it decided to throw her way.

She was the type of person you hope to run into unexpectedly when you've had a bad day. I doubt there is a person on this planet who has ever hung out with Polkey and not had his or her day made better for it.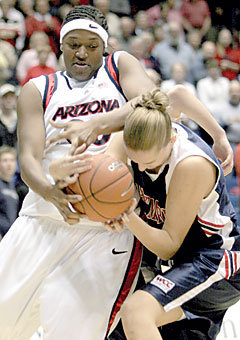 Claire C. Laurence/Arizona Daily Wildcat
Polk wrestles with a Saint Mary's player during an 87-72 win last season in McKale Center. Memorial services for Polk will be held tomorrow evening followed by a public gathering in McKale Center at 6:30.
Take the night of Sept. 16, for example, when Polkey entered Murphey Stadium to cheer on some of her friends from the Arizona soccer team in their match against Utah.
Almost immediately upon entering the stands, she was shouting various phrases of encouragement to the Wildcats while finding her way to a seat.
Most of the time, athletes say they can ignore the crowd. But no doubt every player on the team, despite being on the other side of the soccer field, knew Polkey had arrived.
Once she actually got to sit with some of her teammates, Polkey yelled statements that would make sense in the confines of a basketball game, but were about as out of place on the soccer pitch as an ice rink.
Polkey shouted an interesting assortment of statements, including "Get the ball in to the post player" and "Get in the key." She probably knew they didn't really fit, but it made people laugh.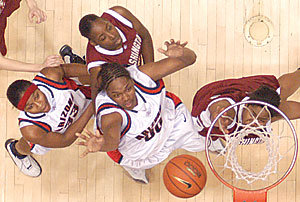 Claire C. Laurence/Arizona Daily Wildcat
Polk (center) battles for a loose ball in this February 2003 photo. 'Polkey,' as she liked to be called, was a force to be reckoned with on the court since she started at the UA in 2002.
It's virtually impossible to believe there was a person who sat within earshot of Polkey who left that game in bad spirits. Even if people didn't know who she was, I'm guessing they didn't forget about her, either.
That game showed one small example of how it always was with Polkey. It was impossible to leave her presence without smiling and contemplating something outlandish she had just said or done, whether she was with one of her closest friends or just a lowly reporter leaving a press conference. She was an unforgettable woman.
My prayers are certainly with Polkey's family, as well as her friends, teammates and everyone who has ever known the joy that it was to spend time with her. If you were one of those who had the fortune of sharing even the smallest piece of life with her, you can feel loss today.
We should all be as fortunate to deal with life as Polkey did: Grin big and laugh as loudly as possible, sometimes for no better reason than just to enjoy what is good about this life.
Sometimes that's all you can do. But laughing at life won't ever be quite the same because one of the people who did it best is gone.
---
Amanda Branam is a journalism senior. She can be reached at sports@wildcat.arizona.edu.


Write a Letter to the Editor