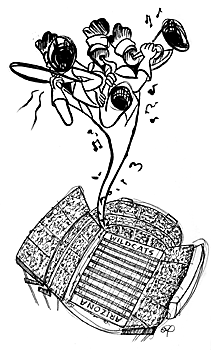 Illustration by Patricia Tompkins

By Matt Stone
Arizona Daily Wildcat
Tuesday, September 27, 2005
Print this


Times are turbulent for Arizona football, but there remains one constant at home football games: the Pride of Arizona marching band. The world's first alternative music marching band, yada yada. Yes, I know all that, the announcer says it before every halftime show.

But there is more to it than that. There's a passion brewing underneath each of those sequined uniforms that we don't see sitting in the Zona Zoo, salivating over nachos and Eegee's at halftime. There's a discipline - a discipline rarely fomented amongst 200-some college students. There's a love for the music and for the power one can create with all those instruments.

The marching band rehearses in the Tucson sun nearly 15 hours a week for one paltry unit of credit. They work that hard for something greater than themselves. They are building larger-than-life monuments to musical giants: in former years, Red Hot Chili Peppers, Talking Heads, The Beatles, Smashing Pumpkins; this year, Led Zeppelin.

And what's more, the marching band is providing the heart and soul of collegiate rivalry. Many a tailgater will attest to the chills and pride felt when the band marches down the UA Mall playing "Bear Down, Arizona" to herald the imminent start of the game. Who can discount the importance of a death march when the away team is stuck on their 1-yard line? Who can deny the gravity of a propitious "2001: A Space Odyssey" fanfare when an all-out blitz is in the works?

The marching band is persevering in spite of being placed in the most inopportune corner of the stadium. On television, they sound great. In the Zona Zoo, they are an inaudible muffle. This is a travesty: Cal places their marching band in the center of their student section; Notre Dame places theirs on the field, inches from the end zone.

But indeed, we can be thankful we don't have Arizona State University's marching band. They manage a couple forms and some half-hearted '60s tunes during their halftimes. After the show, they march off the field like soggy wheat to the chirping of crickets. Their fight song reeks of vaudeville.

Our marching band rises to the occasion because that is what it does.

We are a university because we appreciate a diversity of experiences, opinions and passions. We appreciate what the art history major has to offer just the same as the microbiology major - sometimes, the same person. We appreciate what some backward-thinking hack like preacher Jed Smock has to say just the same as a Nobel-laureate such as Shirin Ebadi - certainly not the same person. We owe it to ourselves to appreciate what the marching band brings to the table just as much as what the football team (increasingly) brings to the table.

Have you seen the trombone player march off the field with a bloody mouth because he put in the utmost effort?

Have you seen the band swirl and fold back on itself until the individuals disappear and all that's left is a single motion-filled body?

Have you seen the director, Jay Rees, letting out his streak-black ponytail at the end of the game to head-bang to the drumline cadences? This is a man clearly taken by music and the power a marching band can evoke. This is a man with a passion. And the UA is a better place because of it.

This is art in the most unlikely of places. This is intensity where it should be absent. This is why that field remains a marching field. Football field? Never heard of it.

Of course, it wouldn't be inappropriate to applaud for those students, to support what it is that they do. They bring an element to college football games that no one else can. A football game is simply not a football game without the marching band, without the camaraderie and spirit it provokes.

Because one day, after you've graduated, you'll appreciate the chills you get when that marching band filled with "kids" plays "Bear Down, Arizona" just like you remembered it. Take that to heart and at the next halftime, you may be inspired to think to yourself:

Wow. These guys are good.

Go ahead and say it under your breath a couple times. You can say it, because it's true.
---
Matt Stone is a junior majoring in international studies and economics, and a former trumpet player for the Pride of Arizona. He can be reached at letters@wildcat.arizona.edu.


Write a Letter to the Editor