Wednesday, September 28, 2005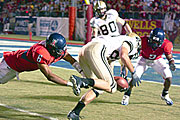 Practice was an escape yesterday for athletes on the Arizona football team, who a day earlier lost a peer and close friend in women's basketball star Shawntinice Polk.
"Any time you can go out and do something you love to do for a couple hours, you get away," said Arizona head coach Mike Stoops. "Then you come back, and it's everywhere in the media and on campus, and it's something they have to deal with."
Arizona returns to action Saturday in Berkeley, Calif., for the team's Pacific 10 Conference opener against No. 12 California (4-0), and while the team is focused on a road upset, thoughts are also on Polk. [Read article]

·
Practice now, Play later: Redshirt athletes prepare for future
·
A Slice of Bacon: Got tickets? I hate you
·
Elston-Marshall balances marriage with golf, school
·
Pastner's notebook: Men's hoops mourns Polk's death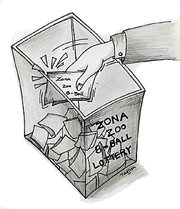 The Zona Zoo pass has done a great deal for students since it was developed in 2002, but it is still one step away from becoming a truly great student athletic program.
No one would argue that the pass isn't a good value, when for $40 you get unlimited access to every home game of every sport on campus for the full year, except men's basketball. You also get a cool T-shirt and access to special events, like pre-game tailgate parties on the UA Mall before home football games. [Read article]

·
University Boulevard booming
·
Sip on this
·
Editorial: Bush again irresponsible after storms
·
Mailbag
Latest Issue: September 22, 2005
Latest Issue: September 20, 2005
More than a pop culture phenomenon, yoga is growing as a route to spirituality
Spirituality has rapidly become one of the fads popularized by mainstream media and celebrities, whether it is Madonna plugging Kabbalah or Sting sculpting his body with yoga. But the practice of yoga has 5,000-year-old roots and is much more complex than its popular portrayal.
Yoga, in general, combines spiritual, physical and emotional practices to form a deeper connection with one's self and the outer world. However it is not limited to a singular definition and seems to take on a different meaning to everyone who practices. [Read article]

require('/home/webby/html/papers/98/polls/current.php')?>

showAds('bigbutton')?>






showAds('mediumbutton')?>


showAds('wildlinks')?>