Thursday, September 29, 2005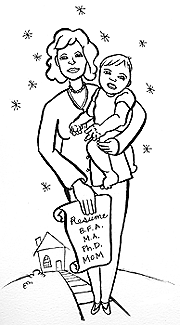 Recently, The New York Times reported on the phenomenon of young Ivy League women intent on finishing undergraduate and graduate studies, launching their careers and then casting aside such plans to become stay-at-home mothers.
Wait; this notion appears counterintuitive in accordance with the women's rights movement, because for decades, women resiliently cried for advanced opportunities in lieu of the sole position of mother.
But this shouldn't be viewed as a stopping point for gender equality in society. Instead, the decision that these women are making should be regarded as the freedom to make personal choices regarding their futures. [Read article]

·
'Adderall Advantage' not all it's cracked up to be
·
Writing in the margins: Fast times, good cause
·
Editorial: Students, administrators must persist
·
Mailbag
Latest Issue: September 29, 2005
Latest Issue: September 20, 2005
More than a pop culture phenomenon, yoga is growing as a route to spirituality
Spirituality has rapidly become one of the fads popularized by mainstream media and celebrities, whether it is Madonna plugging Kabbalah or Sting sculpting his body with yoga. But the practice of yoga has 5,000-year-old roots and is much more complex than its popular portrayal.
Yoga, in general, combines spiritual, physical and emotional practices to form a deeper connection with one's self and the outer world. However it is not limited to a singular definition and seems to take on a different meaning to everyone who practices. [Read article]

require('/home/webby/html/papers/98/polls/current.php')?>

showAds('bigbutton')?>






showAds('mediumbutton')?>


showAds('wildlinks')?>