Friday, September 30, 2005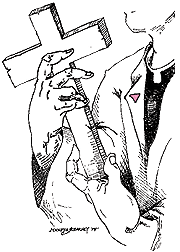 Gays, liberals and proponents of equal rights are already railing against the imminent Vatican instructions banning gay men from entering seminaries. However, this ban has been well-received by certain conservative priests, some of whom claim that the restriction on gay seminarians is "for their own good."
Just as church authorities once banned epileptics from the priesthood, they assert that years of studying in the presence of only other men would be too much of a strain on the celibacy of a homosexual man. [Read article]

·
Build a house, kill an owl
·
Pass/fail: See if these ideas make the grade
·
Mailbag
Latest Issue: September 29, 2005
Latest Issue: September 20, 2005
More than a pop culture phenomenon, yoga is growing as a route to spirituality
Spirituality has rapidly become one of the fads popularized by mainstream media and celebrities, whether it is Madonna plugging Kabbalah or Sting sculpting his body with yoga. But the practice of yoga has 5,000-year-old roots and is much more complex than its popular portrayal.
Yoga, in general, combines spiritual, physical and emotional practices to form a deeper connection with one's self and the outer world. However it is not limited to a singular definition and seems to take on a different meaning to everyone who practices. [Read article]

require('/home/webby/html/papers/98/polls/current.php')?>

showAds('bigbutton')?>






showAds('mediumbutton')?>


showAds('wildlinks')?>