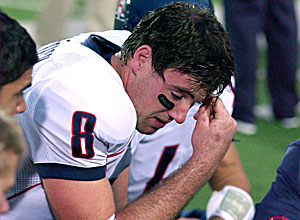 Chris Coduto/Arizona Daily Wildcat

Sophomore quarterback Richard Kovalcheck sits dejected on the bench after throwing an interception during the second half of Arizona's game against No. 12 California Saturday at Memorial Stadium in Berkeley, Calif. Cal defeated Arizona 28-0.

By Kyle Kensing
Arizona Daily Wildcat
Monday, October 3, 2005
Print this


Will Rogers once said, "The trouble with using experience as your guide is that sometimes the final exam comes first, then the lesson."

Never has a quote more aptly applied to the Arizona football team, which Saturday suffered a 28-0 loss to No. 10 California.

Arizona head coach Mike Stoops' ongoing rebuilding process might appear to have hit a snag on the surface with three losses - two to Top-25 teams - and a road contest at two-time defending national champion and top-ranked Southern California less than a week away.

The good news is, Arizona has a lot to gain by taking its "final exam" in the season's early weeks, even if it means taking some lumps.

Run defense

The test: Arizona headed into Saturday's game ranked No. 100 among Division 1-A programs with an average of 202 yards allowed per game.

Cal did little to help the Wildcats with that statistic, scoring two touchdowns on the ground, one by sophomore Marshawn Lynch. Lynch also amassed 107 yards in his first game back from a broken finger suffered Sept. 10.

Sophomore Justin Forsett rushed for 74 yards, while junior quarterback Joe Ayoob rushed for a touchdown on fourth down in the second quarter.

It doesn't get any easier next week, with USC running backs LenDale White and Reggie Bush coming off 197-yard and 158-yard rushing performances, respectively, at ASU.

The lesson: Arizona has made strides in its rush defense, despite allowing 194 yards to the Golden Bears.

The Wildcats sacked Ayoob five times, just one less than their entire output in the three previous games.

Arizona also welcomed the return of senior defensive end Copeland Bryan, who forced a Lynch fumble in the first half.

Stoops will need more of the same as the season progresses, and in facing Pacific 10 Conference stars like Lynch and Bush early on, the Wildcats will be better prepared in the home stretch against teams like Washington, UCLA and Oregon.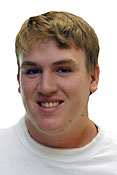 Kyle Kensing
staff writer
Offense
The test: The Cal defense kept Arizona out of the end zone for the second time in two seasons, despite the Wildcats reaching the red zone on two occasions, including a four-play stand at the Golden Bears' 4-yard line.
Still, Arizona gained 13 first downs, just five fewer than its opposition, despite a seven-minute difference in time of possession favoring Cal.
The Wildcats' running game was tested Saturday, managing to gain only 37 total rushing yards.
Cal was able to focus on senior tailback Mike Bell, limiting him to 60 yards, while the rest of the rushing game was relegated to negative yardage, which primarily was the result of quarterback Richard Kovalcheck being dumped behind the line on three separate occasions.
Arizona's inability to successfully run led to 36 pass attempts by redshirt sophomore quarterback Richard Kovalcheck, who threw three interceptions and was often pressured.
The lesson: The importance of a productive run game is becoming more obvious every week - especially so in Berkeley, Calif.
The Wildcats were unable to run for a score in the third quarter from the Cal 4-yard line, thanks to heavy pressure from the Golden Bear defensive line.
Arizona is going to need the Kovalcheck who threw for seven touchdowns in the first three games of the season to re-emerge as Pac-10 play continues, if only to draw defenses out of eight-man box sets currently smothering the running game.
Penalties
The test: Arizona was penalized 11 times for 60 yards, with some of the more painful infractions including an intentional grounding call against Kovalcheck on Cal's 20-yard line and a holding whistle that reined in a 79-yard Syndric Steptoe punt return.
Both penalties were backbreakers that prevented likely scores.
Penalties have cost Arizona an average of 67.5 yards per game this season.
The lesson: The Wildcats have earned penalties mostly because of communication errors - false starts and illegal substitutions on the offensive end.
The lesson to be learned here is to just relax. Arizona is a much improved team from a year ago, but still does not appear to have the confidence necessary for the postseason.
If Arizona can adjust from these mistakes and learn from its tough early-season schedule, the rest of the Pac-10 slate will look less like the surprise pop quiz that Cal seemed to be.
Kyle Kensing is a journalism senior. He can be reached at sports@wildcat.arizona.edu


Write a Letter to the Editor