Thursday, October 6, 2005


NBA at UA: Suns rising at McKale
Team now owned by UA grad, fast building fan base in Old Pueblo
After a downward trend in scoring culminated in NBA teams averaging only 93.4 points per game in 2003-2004, last season's Phoenix Suns played a new brand of basketball involving numerous fast breaks and 3-pointers being launched whenever possible.
It worked, giving the team a 33-win improvement over the season before while playing an exciting brand of basketball defined succinctly in the team's new marketing slogan: "Making basketball fun again." [Read article]




Football notes: Cats may play keep-away with Bush
Shutting down ace kick returner crucial versus USC
After the Arizona football team's practice Tuesday, special teams coordinator Joe Robinson walked off the practice field and spotted three reporters coming his way.
Before any of the media members could say a word, Robinson chimed in.
"I know why you guys are here," he said. "I've got a feeling Reggie Bush's name comes up in this."
If there was ever a question about the impact a quality return man can have on a game, junior running back Bush of Southern California is the answer. [Read article]



Gaub's gospel: An open apology to Arizona athletes
There's something I wanted to say as the Phoenix Suns use McKale Center this week for practice: I'm sorry.
What, might you ask, do I have to be sorry for?
Well, where student-athletes are concerned, everything.
You see, I was born and raised right here in Tucson, and ever since I can remember, I had a basketball in my hands and the Wildcat logo on my shirt (or hat, shorts, socks, etc.).
When I was 6, I would sit at my first-grade teacher's desk reading the sports section, fastidiously studying Arizona's box scores, devouring analyses about our upcoming opponents, and memorizing the cool graphics that listed all the players names and numbers along with the starting lineups. [Read article]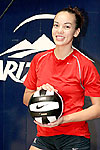 Stealthy Baum makes presence felt on court
Junior's commitment earns team's praise, cements starting spot
While she won't be mentioned in the same breath as Arizona volleyball power hitters Kim Glass and Jennifer Abernathy, junior opposite hitter-middle blocker Kristina Baum has become an equally important component of the Wildcat squad this season.
Baum acknowledged that although she does not spend time in the spotlight, she embraces her position on the team. [Read article]



NBA at UA: Amazing Amaré finally arrives
One-time UA recruit Stoudemire shows up with wisdom for Cats
Imagine Phoenix Suns All-Star forward Amaré Stoudemire on this year's Arizona men's basketball team.
If he had gone to college, Stoudemire would have been a senior this season, teaming with Hassan Adams, Mustafa Shakur and the rest of Lute Olson's bunch. But it was never meant to be.
"I knew I was going to the NBA. I told my friends in my ninth-grade year, when I transferred to an academy school," Stoudemire said in McKale Center Tuesday. "I said, 'Hey, I'm going (pro) out of my high school, and I'll see you guys when I get back.'" [Read article]



Matalonga to represent UA in Tulsa
It will be a one-man show for the Arizona men's tennis team this weekend in Tulsa, Okla., and the Wildcats are sending their best man for the job.
Senior Roger Matalonga is the only Arizona athlete traveling to the ITA Men's All-American tournament that starts today and runs through Sunday.
Although it is only Matalonga's first tournament of the fall season, it should prove to be one of his most important events of the semester. [Read article]




showAds('bigbutton')?>







showAds('mediumbutton')?>

showAds('wildlinks')?>