Sunday, October 9, 2005
LOS ANGELES - Despite an unexpected push that lasted three-and-a-half quarters, the Arizona football team fell 42-21 against No. 1 Southern California yesterday at Memorial Coliseum.
Arizona head coach Mike Stoops said his team showed plenty of positives against a USC squad that "has no weaknesses."
The afternoon looked like it would be a bleak one for the Wildcats early.
After Arizona (1-4, 0-2 Pacific 10 Conference) went three-and-out on its opening possession, the Trojans drove 96 yards on 13 plays, culminating with a one-yard LenDale White touchdown run.
USC (5-0, 3-0 Pac-10) went on the offensive a second time after a second consecutive 54-yard Danny Baugher punt, only to have Wildcat senior safety Darrell Brooks force a fumble from Trojan tailback Desmond Reed near midfield. [Read article]

Friday, October 7, 2005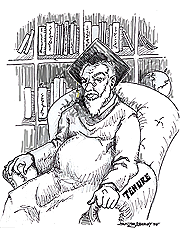 T enure is the golden chalice at the end of a long adventure. After battling through the trials of academia, seen as theses and lectures, a professor can be awarded the grand seal of approval and mark of a true academic: coveted, untouchable job security.
A tenured professor is relieved of the pressures of constant publication or research; he or she does not have to fear arbitrary release from contract or worry about the evaluations from disapproving officials. [Read article]

·
Pass/Fail: See if these ideas make the grade
·
Mailbag
Latest Issue: October 5, 2005
Latest Issue: October 4, 2005
Season's fashion trends tend toward relaxed, femine looks
Fashion is a temperamental, unexplainable beast. It's quite the phenomenon to think that people will dress in the same style without an explicit agreement.
Take for example the flappers of the '20s or the disco, glam rock era of the '70s or whatever the hell they were thinking in the '80s.
The unspoken group assent to style is inexplicable as far as trying to find its source. All we can do is observe the aftereffects. In regard to this fall fashion season, here are a few of the things that we've all somehow implicitly agreed to. [Read article]

require('/home/webby/html/papers/98/polls/current.php')?>

showAds('bigbutton')?>







showAds('mediumbutton')?>


showAds('wildlinks')?>