Monday, October 10, 2005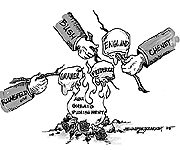 On Sept. 26, Pvt. First Class Lynndie England (you know, the Abu Ghraib superbabe who gained world recognition for adorning prisoners with leashes, confirming the existence of detainee genitalia and sleeping with her superior) was found guilty of one count of conspiracy to maltreat prisoners, four counts of maltreatment and one count of committing an indecent act.
She faced a maximum of nine years behind bars. She was sentenced to three years and will be eligible for parole after one. She can also have her sentenced reduced by up to six months for good behavior. [Read article]

·
Playing with fire
·
Mailbag
Latest Issue: October 5, 2005
Latest Issue: October 4, 2005
Season's fashion trends tend toward relaxed, femine looks
Fashion is a temperamental, unexplainable beast. It's quite the phenomenon to think that people will dress in the same style without an explicit agreement.
Take for example the flappers of the '20s or the disco, glam rock era of the '70s or whatever the hell they were thinking in the '80s.
The unspoken group assent to style is inexplicable as far as trying to find its source. All we can do is observe the aftereffects. In regard to this fall fashion season, here are a few of the things that we've all somehow implicitly agreed to. [Read article]

require('/home/webby/html/papers/98/polls/current.php')?>

showAds('bigbutton')?>







showAds('mediumbutton')?>


showAds('wildlinks')?>