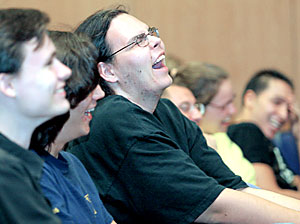 Jake Lacey/Arizona Daily Wildcat
Mike Fenwick, a junior majoring in physics and mathematics, laughs at Steve Hofstetter, who performed last night in the Manuel T. Pacheco Integrated Learning Center. Hofstetter has his own radio show on Sirius Radio and poked fun at topics from his own ethnicity to Paris Hilton.
Correction:
Comedian Hofstetter was paid $1,800 for his show and has 182,000 friends on www.facebook.com.
The Wildcat regrets the errors.

By Nick Smith
Arizona Daily Wildcat
Wednesday, October 12, 2005
Print this

For most people, racism is a touchy subject, but for comedian Steve Hofstetter it's a source of humor.
Hofstetter listed "racist" products like Cracker Jack, Cheese Nips and the Whopper for a crowd of 60 at last night's comedy show in the Manuel T. Pacheco Integrated Learning Center.
Hofstetter's set ran the gamut of topics from the Federal Communications Commission to Alanis Morrisette, as well as running into traditionally taboo areas like religion and politics.
"The worst things the Democrats did was run John Kerry," Hofstetter said. "Let's take a tree from 'The Wizard of Oz' and make it president."
Hofstetter came to the UA on the request of the Associated Students of the University of Arizona Speakers Board.
The show was free to students, but it cost ASUA $18,000 to bring Hofstetter to campus, said Carrie Pixler, Speakers Board director and political science junior.
The show was held to raise money for victims of Hurricane Katrina. Hofstetter contributed 20 percent of his earnings at the show toward the fund.
More than $100 was also raised by asking for donations from the show's attendees, Pixler said.
Hofstetter is no stranger to benefit fundraisers. A few nights ago he helped raise more than $2,500 to aid combating eating disorders. When he does a benefit show, he said he raises anywhere from $10 to $5,000, depending on how well the show was marketed.
Matt Hesselbacher, an electrical engineering senior, first heard about Hofstetter through www.facebook.com, an online college directory.
"Someone had him as a friend and he had a thing that said 'trying to reach 100,000 friends,'" Hesselbacher said. "So I added him, checked out his Web site, saw the tracks and saw he was pretty funny."
A Facebook devotee himself, Hofstetter boasts more than 18,200 friends on the Web site. He said extensive connection has helped him boost attendance at shows via e-mails that can be sent to anyone connected through the Web site.
Shelby Lewinter, an undeclared sophomore, thought Hofstetter was hilarious and had canceled previous plans to see a movie in order to attend the show. Unlike Hesselbacher, Lewinter found out about it the day of the show.
"I read about it in the Daily Wildcat this morning instead of paying attention in class," Lewinter said.
Hofstetter is the host of the show "4 Quotas" on Sirius Satellite Radio and has appeared on such TV shows as "Last Comic Standing," "Law and Order" and "Ed."


Write a Letter to the Editor