Wednesday, October 12, 2005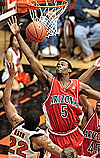 Men's Basketball Notes: McClellan won't suit up for fall semester
Sophomore guard Jawann McClellan of the Arizona men's basketball team will not be in uniform for the first seven games of the 2005-2006 season after he was ruled ineligible for the fall semester.
McClellan said he heard about the appeal being denied last week but didn't know his status for sure until this week.
"It's my fault that I'm ineligible, and I have to accept that," McClellan said in McKale Center yesterday. "I've moved on, and I'm really happy because I'm really focused on school right now." [Read article]




Inside the UA Athletes: Running passion unites siblings
Growing up in a big family was nothing short of fun for Robert Cheseret and his sister Irine Lagat.
They played games together, helped each other with chores, watched after the family animals and most importantly, they ran. From the time they were little, their parents, who were former runners, instilled in them a love for running.
Lagat's www.facebook.com profile says "(I) love running, it is in me." [Read article]



A slice of bacon: What I would do with $240 million jackpot
The current estimated value of the Powerball lottery jackpot for this week is $240 million.
Being the hugely intelligent mathematics guru that I am, I know it is worth roughly a Penny Hardaway contract.
So, after purchasing my lucky numbers, I started daydreaming about what would come with my new riches.
Here are just a few things I'd do once they cut me my much-needed check:
I'd start by purchasing the most confusing, mouth-numbing muzzle in the history of the world and affix it to mouth of ESPN reporter Steven A. Smith, because, quite frankly, he's a complete moron. [Read article]



Suns Notes: Suns lose star Stoudemire for four months
While the Suns had training camp in Tucson last week, they left without the services of star forward Amaré Stoudemire, whose left knee injury caused him to miss the last three days of camp and Saturday's scrimmage.
A team doctor, Thomas Carter, discovered during preliminary surgery yesterday that Stoudemire had more extensive damage in his knee than previously thought, The Associated Press reported yesterday. [Read article]



Miller nets Pac-10 Player of the Week
Arizona senior midfielder-forward Mallory Miller earned Pacific 10 Conference Player of the Week honors for the week of Oct. 4-10, conference commissioner Tom Hansen announced yesterday.
Miller scored 10 points in weekend wins over Oregon and Oregon State. She completed the second hat trick of her career in a 4-2 win Friday against the Ducks and finished with a goal and two assists in a 3-0 victory Sunday over the Beavers. [Read article]



Wilson leads Cats in Seattle
The No. 23 Arizona women's golf team dropped a spot in the team standings yesterday in the Edean Ihlanfeldt Invitational in Seattle.
The Wildcats shot 26-over-par yesterday at the Sahalee Country Club to fall into a tie with Southern California in fifth place.
Freshman Lauren Espinosa followed her first-round 74 with a 6-over-par 78 to drop five spots into a tie for 13th place with freshman Amanda Wilson. Wilson shot a 3-over 75 to lead all Wildcats yesterday. [Read article]




showAds('bigbutton')?>







showAds('mediumbutton')?>

showAds('wildlinks')?>