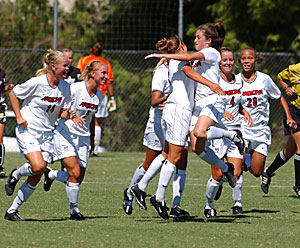 CHRIS CODUTO/Arizona Daily Wildcat

The Arizona soccer team plans to have more reasons to celebrate this year, as it opens up its attempt at bettering last season's 6-11-2 overall mark this weekend at the Cyclone Classic in Ames, Iowa.

By Brett Fera
Arizona Daily Wildcat
Tuesday, August 24, 2004
Print this


Coach: Chemistry just right for breakout year

The 2004 Wildcat women's soccer team surely doesn't want its fans to be fooled by its record of a year ago.

Everyone else: Let the deception begin.

"I told these girls, until results change, we're going to be measured by that," said second-year head coach Dan Tobias, who welcomes teams to try and take his squad lightly this season after posting a 6-11-2 record overall and 2-6-1 mark in Pacific 10 Conference play last year.

"There were a lot of games we played last year where we were the better team, but we made a couple mistakes and it showed up on the scoreboard and we lost.

"We did some things on the road, we won some Pac-10 road games, we beat some ranked opponents. Those are definitely positives," Tobias said. "They're good building blocks for this year. Would I have like to have won more games last year? No question. But we feel good about the direction of the team."

But the fact those outside the UA program - now entering its 11th season of play - may not be able to see past its .368 win percentage doesn't mean the Wildcats themselves are discouraged one bit.

"That's always kind of a twist, to catch a team off guard," said junior co-captain Jennifer Klein. "But we know what we've done and what we can do, so we'll focus on what we can control."

What the Wildcats can - and will - control before their season gets underway Friday at Iowa State is how much time the team's 11 returning players and 12 newcomers - including 11 freshmen - are willing to put into perfecting their trade on the practice field , Klein added.

"It takes hard work; it takes effort. It takes coming together and being on the same page," she said. "Things are starting to gel for all of us. We haven't played against anybody, but we're all ready for it."

Tobias agrees that seeing his newcomers creating a chemistry with the team's established veterans this early in the season is an added bonus.

"We actually have a senior class this year. I think we have some players in it - Candice Wilks, Lindsey Peeples and Vanesha Bailey - that have some qualities that you just can't teach," Tobias said. "Those (freshmen) combined with (the seniors) give us a great chance every game to not only get the result we're looking for but to play better and better soccer."

Wilks, a first-team All-Pac-10 selection last year after leading Arizona with eight goals and 18 points, returns to captain an offense that looks to improve on last year's total of just 23 goals in 19 games.

"Candice has the potential to be one of the top attacking players in the country, not just the Pac-10," Tobias said.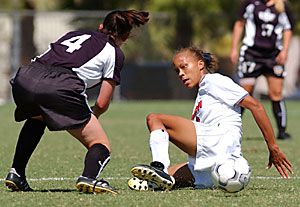 CHRIS CODUTO/Arizona Daily Wildcat
Senior Lindsey Peeples, right, was chosen as one of three co-captains for the 2004 season. Senior Kelly Nelson and junior Jennifer Klein were also named co-captains.
Wilks, who enters the season just nine goals shy of the all-time Arizona career record (Nikki Jones, 1995-98, 25 goals) should have plenty of help with the return of junior Mallory Miller, who scored six goals last season, and junior co-captain Kelly Nelson.
Nelson's healthy return could be the wild card for Arizona. After a breakout 2002 season that saw her set the school's single-season mark for goals scored with 13, Nelson was hampered almost all of last season with an ankle injury. Nelson failed to score a goal, and limited to action in just 12 games.
Tobias said he's happy to see Nelson back at full strength and expects both Klein, Nelson and fellow co-captain Peeples to help push this young UA squad to the next level in its development as a program.
"We elected captains actually before the freshmen got here and that was the consensus from the team, that those three be the leaders," Tobias said, not failing to note the other returning players he'll rely on this season to help guide the team's younger players. "Candice, Mallory, Vanesha - they're always going to lead by example."
Finally settled into Tucson ready to build a program that can contend in the Pac-10, Tobias is confident this season will, at least, be a step in the right direction.
"I look at the group that we have, and I feel like on any given day we can beat anyone on our schedule. I think that was the case last year, but I think our margin of error is so much smaller."
As for the players, Klein said she and her teammates are just anxious to get back on the field and prove the doubters wrong.
"Whoever is on the schedule, it doesn't matter," she said. "We're going to prepare the same every time and put the hard work in."


Write a Letter to the Editor