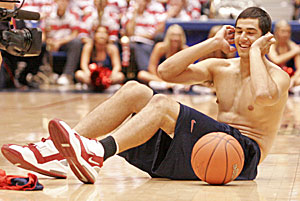 Jacob Konst/Arizona Daily Wildcat

Freshman David Bagga playfully does a series of sit-ups after a dunk in last week's McKale Madness. Bagga has been working hard with the team's big men in preparation for their Nov. 21 game against Kansas in the Maui Invitational.

By Roman Veytsman
Arizona Daily Wildcat
Thursday, October 20, 2005
Print this


David Bagga, a 6-foot-4, 175-pound athlete from Foothill Ranch, Calif., is a freshman walk-on this season for the Arizona men's basketball team.

Bagga, who is expected to contribute at the shooting guard and small forward positions, attended Mater Dei High School, which went 31-4 his senior season.

He will share his thoughts and experiences with the team in a biweekly feature for the Arizona Daily Wildcat.

"I want to give the students an inside look at our practices, our games, and our lives and let the students get to know us better," Bagga said.

On the changes between the first week of practice and the rest of the first semester:

The intensity level has stepped up. It was two hours a week - now it's two hours a day. The coaches' intensity level has stepped up, because they're preparing us now for games.

On the expectations of practice:

It's a given that every day, we expect that everyone will go hard. Even if you're not in some of the drills, you have to be ready because you never know when you're going to be called in or when someone gets hurt or doesn't show up that day. I expect to learn a lot every day from everyone, not just the seniors and not just the coaches.

On the team's first practice Saturday:

It was two-and-a-half hours. It was very intense. It was a little tiring, because we had McKale Madness the night before and then we had practice the next day. We did defense for the first hour, then offense for an hour, and then scrimmaged for half an hour. It set the tone for what the practices were going to be like this year.

Practicing in itself teaches you great discipline, to get there on time, to do things right, to play hard.

On his role at practice:
I'll work with (assistant) coach (Josh) Pastner with the big guys. It's so much fun. You get to bang with all the big guys every day. I get to go up against Kirk (Walters), Mohamed (Tangara), Isaiah (Fox) and Bret (Brielmaier). Sometimes, I'll switch over and work out with the wings and (assistant coach) Miles (Simon), and he'll have four or five of us on one court, and then (associate head) coach Ros (Jim Rosborough) will be on the other court.
On the coaching staff:
They all bring something different. (Head) coach (Lute) Olson is the best coach ever. I learn something new every day from him in practice. Coach Pastner lets you know what you need to improve, and Miles and Ros are the same way. The criticism is very constructive so it makes us better as basketball players.
On the physical and mental aspect of practice:
You have to be disciplined. Practicing in itself teaches you great discipline, to get there on time, to do things right, to play hard. I get excited to practice every day because I learn something new and I get to go up against guys like Hassan Adams and Mustafa (Shakur) every day. You have to keep your body rested. As soon as I get home from practice, I sleep.
On Adams's practice habits:
He's very intense. I've never seen him take a play off - ever. In the two-and-a-half months I've been here, there's not one play when he's not going 110 percent. We filter off of him. He's our leader and he sets the tone for us. We follow his example.
One thing that sticks out from the first week of practice:
The defensive end and the full-court press. I've been learning where to go and when the ball is on one side of the court, when to trap and when not to trap. (The coaches) teach a lot of stuff, and you really have to pay attention and understand it. Before you know it, our first game will be here, and then Pac-10 play will be here.
On the Maui Invitational and the coaches' thoughts:
They prepare us for Kansas, our first regular season game (Nov. 21), and they just say you have to be prepared physically and mentally as well. We're trying to be as ready as we can to take them on because it's going to be a battle as soon as we go out there.
On understanding concepts from observing:
I notice a lot sometimes, because I don't do some of the drills. You really notice where you're supposed to be even when you're standing. When I get out there, I pick it up faster sometimes, knowing where to be in a defensive drill, where the wings go, where the posts go. I notice the mood of the practice never goes down. It always stays upbeat, and I think that has a lot to do with coach Olson and the staff.


Write a Letter to the Editor