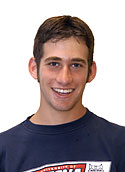 Michael Schwartz
staff writer

By Michael Schwartz
Arizona Daily Wildcat
Thursday, October 20, 2005
Print this


As the Chicago White Sox prepare for their first World Series appearance since the Eisenhower administration, fans on the Windy City's South Side hope to throw away decades of frustration with a championship.

This includes sophomore outfielder Kenny Williams Jr. of the Arizona baseball team, who has White Sox baseball in his blood.

That's because he's the son of Kenny Williams, Chicago's general manager and senior vice president.

Williams Jr. grew up a fan of the organization his father has been a part of for 21 years in a variety of capacities, from player to scout to general manager, his job for the past five seasons. That makes him the architect of this year's Series-bound squad, the first since 1959.

"I remember when my dad was talking about getting some of these guys and the probable starting lineup in a five-game (playoff) series," Williams Jr. said.

That lineup includes a dominating pitching staff of Jose Contreras, Mark Buehrle, Jon Garland and Freddy Garcia, all acquired by Williams through trades or the Major League Baseball draft.

The quartet shut down the Los Angeles Angels of Anaheim in the White Sox' five-game American League Championship Series victory, throwing four consecutive complete game victories, a feat not accomplished in the postseason since the 1928 New York Yankees.

Williams also warped the offense from a slugging machine buoyed by the likes of Scottsdale native Paul Konerko, Magglio Ordonez and Carlos Lee to a small-ball team that bunts and steals bases with the best of them.

While Konerko still slugs in the middle of the Sox order, hitting devastating first-inning home runs in Games 3 and 4 of the ALCS, the speed of outfielder Scott Podsednik, whom Williams traded Lee to acquire, and second baseman Tadahito Iguchi make things go for the offense.

As the city of Chicago heaps praise on the entire organization, from chairman Jerry Reinsdorf on down, Williams Jr. said he's proud of his father's achievements.

"I was at home when he was plugging 14-, 16-hour days, when he really didn't want to be there. He couldn't watch me play baseball," Williams Jr. said. "I see the work he put into turning them around. He's made a couple key moves that have made me very proud."

Having swept the defending champions Boston Red Sox in the first round before bouncing the Angels, the Sox await the Houston Astros, who eliminated the St. Louis Cardinals in the National League Championship Series last night.

Williams Jr. said he will attend Games 1 and 2 of the World Series this weekend at Chicago's U.S. Cellular Field along with his entire family that includes four siblings.

If the Sox win three games during the Series to stand only one game away from the championship, he said that he will attend that game "no matter what."

Having been a Sox fan as long as he can remember growing up in Plainfield, Ill., Williams Jr. said he feels like a part of the team, constantly referring to the Sox as "we" rather than "they."

"I do because my father is connected," Williams Jr. said. "That's the team I've grown up with all my life. It's pretty much a family thing."

While the White Sox seek to end a championship drought dating back to 1917, in doing so they would leave the Chicago Cubs alone in their no-title misery, as neither team has won a title in a combined 185 years.

"It's extremely special because we hadn't been (to the World Series) in so long," Williams Jr. said. "It's basically nice for the South Side. The Cubs take all the fans in Chicago.

"I wish I could be in Chicago right now," he said. "It's exciting to shove it in the North Siders' face(s)."

The White Sox' success puts them four games away from making the city forget about its lovable losers and embrace its walloping winners.

If that happened, the Cubs would stand as baseball's sole remaining "cursed" team, as the Red Sox broke their so-called curse that spanned 86 seasons last year.

While the White Sox, 7-1 in the 2005 postseason, seem to have plenty of momentum, Williams Jr. has not thought of his team as this year's Red Sox quite yet.

"It's very similar, but we haven't won anything yet," Williams Jr. said. "We need to win four more games and then talk about comparisons."

If the Sox succeed, the Williams clan will not be the only family in Chicago rejoicing together after enduring decades of disappointment.
---
Michael Schwartz is a journalism sophomore. He can be reached at sports@wildcat.arizona.edu.


Write a Letter to the Editor