Thursday, October 20, 2005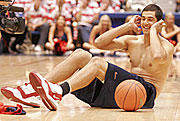 David Bagga, a 6-foot-4, 175-pound athlete from Foothill Ranch, Calif., is a freshman walk-on this season for the Arizona men's basketball team.
Bagga, who is expected to contribute at the shooting guard and small forward positions, attended Mater Dei High School, which went 31-4 his senior season.
He will share his thoughts and experiences with the team in a biweekly feature for the Arizona Daily Wildcat.
"I want to give the students an inside look at our practices, our games, and our lives and let the students get to know us better," Bagga said. [Read article]

·
Football Notes: 'D' hopes to limit Ducks' spread 'O'
·
Commentary: Sophomore outfielder pulling for dad's Sox
·
Walk-on wonders: 'Everyone's equal – We're all teammates'
·
On the air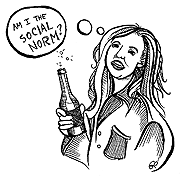 Mark Twain usually gets credit for the quote "There are three kinds of lies: lies, damned lies and statistics," even though it was probably Benjamin Disraeli who first said it. But I've said it a bunch of times after both of them, and I'd like some credit too.
Not only was it a cleverly respectable way to say "damn" in class in high school, but it's also a fairly profound observation. Statistics are some of the wiliest things going, and the UA is hoping that we'll base our behaviors on some that they've posted for us. [Read article]

·
TV embodies affirmative action
·
More should accept PBK invites
·
Editorial: Paltry student turnout at forum deplorable
·
Mailbag
Latest Issue: October 20, 2005
Latest Issue: October 18, 2005
What can be said about hair that hasn't been said before? It's important? Well, it protects our heads from all kinds of calamities: low branches, the hot Arizona sun, bird poop.
After all, the existence of hair has been a pivotal part of our human history. The cave men pulled the cave women by it during the Ice Age. Rapunsel let her man climb up it for wild nights of tower partying and fairy tale sex. Even today, don't we judge all politicians by the size and greatness of their hair? (So why didn't Kerry win then?) [Read article]

require('/home/webby/html/papers/98/polls/current.php')?>

showAds('bigbutton')?>







showAds('mediumbutton')?>


Thursday
---
5:30 pm
UATV: Daily Dose
6 pm
UATV: Wildcast
6:30 pm
The DRSC
7 pm
The Butterfly Effect
9:30 pm
Donnie Darko
12:00 pm
Evil Dead II

Show Schedule
Interview Archives

showAds('wildlinks')?>