Sunday, October 23, 2005

Earlier this week, Arizona football head coach Mike Stoops said he'd take true freshman Willie Tuitama out of his redshirt if he could provide a spark for the struggling Wildcats.
The freshman quarterback replaced Richard Kovalcheck in the first quarter and led a 21-0 run, but again Arizona mistakes prevented the Wildcats for getting in the win column in the first time in the Pacific 10 Conference play.
Arizona fell to No. 15 Oregon 28-21 Saturday night in front of 48,052 at Arizona Stadium in the debut game for the highly touted Tuitama. [Read article]

Friday, October 21, 2005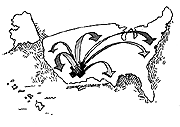 Studying abroad is all the rage these days, and for good reason. It can provide immersion in a different culture, exposure to new ideas, opportunity to learn about oneself in an unfamiliar context, a resulting invigorated sense of purpose, and of course, lots of cool pictures.
However, many students cannot logistically or financially manage such a trip across oceans and borders. This is where the frequently overlooked National Student Exchange can help. Living in a new place with a new culture, outside of familiar personal norms, is an essential experience for any college student, and for those who may not have the resources for studying abroad, NSE is an interesting parallel option. [Read article]

·
Pass/Fail: See if these ideas make the grade
·
Mailbag
Latest Issue: October 20, 2005
Latest Issue: October 18, 2005
What can be said about hair that hasn't been said before? It's important? Well, it protects our heads from all kinds of calamities: low branches, the hot Arizona sun, bird poop.
After all, the existence of hair has been a pivotal part of our human history. The cave men pulled the cave women by it during the Ice Age. Rapunsel let her man climb up it for wild nights of tower partying and fairy tale sex. Even today, don't we judge all politicians by the size and greatness of their hair? (So why didn't Kerry win then?) [Read article]

require('/home/webby/html/papers/98/polls/current.php')?>

showAds('bigbutton')?>







showAds('mediumbutton')?>


showAds('wildlinks')?>