Friday, October 21, 2005


Running game: Cats moving to matchup with Ducks
After struggling through the first half of its schedule, the Arizona football team doesn't get much of a break tomorrow.
The Wildcats (1-5, 0-3 Pacific 10 Conference) play their fourth top-15 opponent in five games when No. 15 Oregon (6-1, 3-1) comes to Arizona Stadium tomorrow at 4 p.m.
Much of the news surrounding this week's game is whether freshman quarterback Willie Tuitama will come out of his redshirt and relieve the team's starting quarterback, redshirt sophomore Richard Kovalcheck. [Read article]



Shannon Hobson to redshirt with back injury
Women's hoops struggling to finalize the line
Coming into the 2005-2006 season, the Arizona women's basketball team knew it was going to have significant holes to fill with the vacancies left by center Shawntinice Polk, who died Sept. 26, and former point guard DeeDee Wheeler.
Now there are other gaps in the Wildcat lineup.
Junior forward-center Shannon Hobson, who averaged 4.8 points and 3.6 rebounds per game last year, will use a medical redshirt this season. [Read article]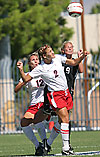 Soccer hosts fierce foes this weekend
The Arizona soccer team returns home for its most difficult Pacific 10 Conference weekend yet this season, facing No. 10 California tonight at 7 and No. 25 Stanford Sunday at 1 p.m. at Murphey Stadium.
"At this point in the season, it's the second half of conference play," said Wildcat head coach Dan Tobias. "The good thing about our group is we're motivated, we're playing good soccer, we've been shutting teams down and, like we've been doing all season, we're creating good chances." [Read article]



Staff picks
Oregon vs. Arizona
Tom Knauer: Oregon 34, Arizona 13. My roommate Brad brought this up with me the other day: Why did the first half of Arizona's schedule get so much press? After all, the Wildcats have to play potentially three more Top 25 teams in the Ducks, UCLA and ASU, all of whom, with a win, would destroy Arizona's postseason hopes. Alas, that last phrase is quickly becoming an oxymoron. [Read article]



Opponent Analysis: Potent Ducks employ familiar offense for Cats
Oregon is riding its second three-game winning streak of 2005 heading into Arizona Stadium for tomorrow's matchup with the Wildcats.
The Ducks surpassed their 2004 win total Saturday with a 45-21 drubbing of Washington and, as one of the nation's most consistent programs over the last decade with a 86-41 overall record, has re-established itself after failing to make the postseason last season. [Read article]




Despite losses, Red Army support unwavering
Since the dawn of the John Mackovic era in 2001, two constants have characterized the Arizona football team's home games: disappointing results on the field and the vociferous support of the Red Army in the stands.
Win or lose, the Army, a collection of past and present Wildcat students, attends every game at Arizona Stadium from the comforts of the first two rows of the Zona Zoo student section. [Read article]




No. 8 volleyballers take on UCLA, USC
The competition is not about to get any easier for the No. 8 Arizona volleyball team.
After defeating then-No. 3 Stanford in five games Oct. 13 and sweeping then-No. 13 California the day after, the Wildcats (14-2, 6-1 Pacific 10 Conference) must compete against No. 21 UCLA tonight at 7 in Los Angeles. Arizona takes on No. 19 Southern California tomorrow at 6 p.m.
After last week's consecutive victories, Arizona jumped up four spots in the American Volleyball Coaches Association poll. This marks the program's highest ranking since being selected No. 6 in the 2002 preseason poll. [Read article]



Wildcats to appear on TV at least 14 times in 2005-2006
If you weren't able to get tickets, and you're not willing to travel thousands of miles to attend games, have no fear - you can still watch from anywhere in the country as the Arizona men's basketball team plays on TV at least 14 times this season.
The Wildcats could appear in as many as 17 nationally televised games if they advance far in the season-opening EA Sports Maui Invitational in Hawaii and if they are picked as the Pacific 10 Conference wildcard selection for a game on March 4. [Read article]




showAds('bigbutton')?>







showAds('mediumbutton')?>

showAds('wildlinks')?>