Arizona Daily Wildcat
Friday, October 21, 2005
Print this


Oregon vs. Arizona

Tom Knauer: Oregon 34, Arizona 13. My roommate Brad brought this up with me the other day: Why did the first half of Arizona's schedule get so much press? After all, the Wildcats have to play potentially three more Top 25 teams in the Ducks, UCLA and ASU, all of whom, with a win, would destroy Arizona's postseason hopes. Alas, that last phrase is quickly becoming an oxymoron.

Amanda Branam: Arizona 17, Oregon 13. OK, because we can put up 21 points against Southern California and only 16 against Stanford, clearly we have a problem with playing down to our opponent. So do the fans. I think the guys will be up and angry after last week. Oh, just a shout out to the guy behind me at the Stanford game: Our football team should not run the option. But thanks for such a brilliant suggestion.

Anthony Tarnowski: Oregon 45, Arizona 10. The Ducks have put 30 or more points on the scoreboard in six of their seven games this year, the exception being against No. 1 USC. The Wildcats, fresh off Saturday's stinker versus Stanford, have given up more than 20 points in each of their five losses this season. This one's going to be about as ugly as Oregon's yellow uniforms.

Tennessee vs. Alabama

Tom Knauer: Tennessee 21, Alabama 17. Brodie Croyle's a near Heisman candidate as the Crimson Tide has jumped out to its best start this century. Croyle's got a cannon, but without his top wide receiver, who broke his leg against Florida in most atrocious fashion and is out for the year, Alabama won't score 20 points against an underrated Volunteers squad.

Amanda Branam: Tennessee 28, Alabama 14. Alabama has the better quarterback and the better running back, and it just finds a way to win. That, and it has the all-important home field advantage in an SEC matchup. Alabama will kick the Volunteers while they're down after their home loss to Georgia last week.

Anthony Tarnowski: Tennessee 21, Alabama 14. Last week against No. 5 Georgia, the Vols managed only 48 yards rushing in a home loss. On the road in Tuscaloosa this week, against an Alabama team that is giving up less than 100 rushing yards a game, the Volunteers will take another step backward since their Sept. 26 upset over LSU.

Amanda Branam
staff writer
Auburn vs. LSU
Tom Knauer: LSU 24, Auburn 21. LSU's an odd beast. Under a new head coach and dealing with the dual specters of Hurricane Katrina and two (somewhat) surprising rivals in the Southeastern Conference, the team's well in the thick of the conference title race. I'm not sold on JaMarcus Russell, but after this game the team has only a road game against 'Bama standing between it and completing one of the best stories of the season. And Auburn sucks, so there.
Amanda Branam: Auburn 13, LSU 10. The only remotely impressive game Auburn won this year was at Arkansas. LSU in Baton Rouge will be slightly more difficult. I say defense wins an ugly, low-scoring game for the Tigers. I'm just full of upsets this weekend, I guess.
Anthony Tarnowski: Auburn 25, LSU 13. Auburn comes into its matchup with LSU without a win against a D-I team with a winning record this year. This isn't the week it adds one. The Tigers' defense (the LSU Tigers that is, sorry) sacked Chris Leak four times in a win against Florida last week. LSU should have an even easier time getting to immobile Auburn quarterback Brandon Cox (-38 rushing yards this season).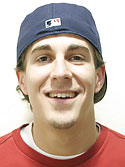 Anthony Tarnowski
staff writer
Texas Tech vs. Texas
Tom Knauer: Texas Tech 51, Texas 24. Pundits across the board are probably expecting a reprise of last year's Rose Bowl, where Texas and Michigan duked it out like Rocky and Ivan Drago en route to 75 combined points. That could happen again, with Texas Tech scoring like Hugh Hefner circa 1975, but the Red Raiders haven't played anyone nearly as talented as the Longhorns and its bruising defense. This'll be a bigger flop than the upcoming "Rocky Balboa."
Amanda Branam: Texas Tech 52, Texas 49. I pretty much loathe all things Texas (except for my dad), so this one puts me in a bit of a conundrum because I really don't want either team to win. But, as a general policy, I never, ever pick UT to win anything, unless they were facing Saddam Hussein. Once a year, I'll say it: Go Red Raiders.
Anthony Tarnowski: Texas 49, Texas Tech 31. No one has been able to slow down Texas Tech's offense again this season - Tech quarterback Cody Hodges already has 22 touchdowns on the season. But if there's one quarterback I want in a shoot out, it's Vince Young. Get ready for the PlayStation-offense showdown of the season in Austin on Saturday, with the Longhorns coming out on top.


Write a Letter to the Editor