Monday, October 24, 2005


Student section blocked off
More Zona Zoo passes sold than seats in section
A jump in student attendance at football games has forced security guards to block admittance to the student section before the game-time whistle blows, officials said.
So far 11,640 Zona Zoo passes that grant UA students access to the student section have been bought this year, up from the 9,468 purchased last year, said Russ Dean, assistant athletic director. [Read article]




Survey on Spanish Wildcat delayed
Plans to distribute a survey to assess interest in Spanish articles in the Arizona Daily Wildcat have been put on hold, said the ASUA senator heading the effort.
Sen. Lexie Ettinger, a political science sophomore, has not set a definite date to begin passing out the surveys due to being busy with other senate projects, she said.
"At the beginning of the semester, I wanted to get the surveys out as quickly as possible," she said. [Read article]




UA cheerleaders, students featured on MTVU
Despite the Wildcat defeat at Saturday's football game, an MTV-University camera crew said they were impressed with the amount of UA student spirit they saw after filming the campus over the weekend.
The college network of the mother ship MTV focused on the UA cheerleaders before and during the game, and also interviewed students and fans at the pregame tailgating party.
The "tailgating tour" focuses on five other college campuses nationwide in addition to the UA and is "about everything that goes into football but the football," said video jockey George Oliphant at the game. [Read article]



Quick Hits
Registration for juniors and honors students
Priority registration for juniors and students in the Honors Program takes place this week ending Friday. Students can access course availability, descriptions and registration methods via Student Link.
Any students with a balance on their bursar's account will not be permitted to register until the balance is paid.
Altar for Los Dias de los Muertos at UofA Bookstore [Read article]




India Club hosts celebration as part of religious festival
The UA India Club hosted Tucson's annual Garba celebration Saturday, a Hindu religious celebration that brought students and the local Indian community together for a night of music and dancing.
The party filled the Ina E. Gittings Gym with more than 100 people whirling and spinning in bright-colored traditional dress from 9 p.m. until after midnight.
A Garba is traditionally the culmination of a nine-night festival called Navratri, and consists of music and dancing in celebration and praise to Durga, the goddess of health. [Read article]



Magazine replaces yearbook
A new university magazine hits the newsstands today, replacing the Desert Yearbook that was eliminated this year because of inadequate sales and poor advertising.
To fill the yearbook's void, Arizona Student Media replaced the publication with a bimonthly magazine.
RedBlue is the first Arizona Student Media-sponsored student magazine and will feature a look into student life in areas of entertainment, fashion, sex, relationships and the Tucson scene, said Editor in Chief Lauren Miller. [Read article]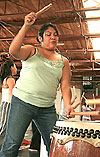 Women use drums to bond
Female students and faculty in the Colleges of Science and Engineering attended a Taiko drumming workshop yesterday, learning leadership and communication skills while making a lot of noise.
Taiko, which means "fat drum" in Japanese, is an ancient art of drumming and poise that originated in Japan thousands of years ago as a means of communication across long distances.
The style practiced last night is called Kumi-Daiko or "group drumming," a variant of traditional Taiko founded in America in the 1950s that combines elements of traditional drumming with jazz and other modern styles. [Read article]




Fast Facts
Artist Xavier Roberts first designed the famous Cabbage Patch dolls in 1977 to help pay his way through school. They had soft faces and were made by hand, as opposed to the hard-faced mass-market dolls, and were originally called "Little People."
Fleas can accelerate 50 times faster than the space shuttle.
Taiwan was known formerly as Formosa.
When a queen bee lays the fertilized eggs that will develop into new queens, only one of the newly laid queens actually survives. The first new queen that emerges from her cell destroys all other queens in their cells and thereafter reigns alone. [Read article]




showAds('bigbutton')?>







showAds('mediumbutton')?>

showAds('wildlinks')?>