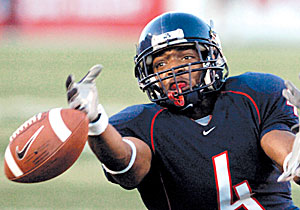 Chris Coduto/Arizona Daily Wildcat

Arizona receiver B.J. Dennard can't hang onto a pass during the second quarter of Oregon's 28-21 win over Arizona on Saturday at Arizona Stadium. Fumbles and other miscues throughout the game kept the Wildcats' second win of the season out of reach.

By Charles Renning
Arizona Daily Wildcat
Monday, October 24, 2005
Print this


Tuitama takes over, but Wildcats stumble in comeback bid

Like the old saying goes, the more things change, the more things stay the same.

The Arizona football team debuted freshman quarterback Willie Tuitama but still hurt itself with turnovers and mistakes in Saturday's 28-21 loss to No. 14 Oregon at Arizona Stadium.

"It's just how it is," said Arizona head coach Mike Stoops. "We just don't do all the little things right all the time. Learning how to win, for guys who've never won, it's extraordinarily hard for them to do."

With five minutes remaining and the Wildcats (1-6, 0-4 Pacific 10 Conference) at the Ducks' 40-yard line trailing 28-21, senior running back Mike Bell fumbled for the second time in the quarter, ending Arizona's upset hopes.

Oregon linebacker Brent Haberly returned Bell's first fumble for a 34-yard, game-winning touchdown.

Dropping the ball

Fumbled opportunities ruined the Wildcats' hopes for an upset win over No. 14 Oregon on Saturday:
1st quarter, 11:39 remaining: Nick Folk misses a 37-yard field goal wide right
1st quarter, 6:21: Aaron Gipson blocks a Danny Baugher punt; Oregon recovers the ball on Arizona's 27-yard line
3rd quarter, 5:40: Haloti Ngata blocks a Baugher punt at the Arizona 15-yard line; Baugher recovers the ball and carries it 39 yards to Oregon's 46, but the Ducks regain possession
3rd quarter, 0:54: Justin Phinisee intercepts a Willie Tuitama pass at Oregon's 29-yard line and returns the ball 46 yards to Arizona's 15
4th quarter, 12:14: Mike Bell fumbles on Arizona's 34 yard line; Brent Haberly recovers the ball and returns it for the deciding touchdown
4th quarter, 4:43: Bell fumbles on Oregon's 37-yard line; Anthony Trucks recovers for a 4-yard loss
"I take it on my shoulders, say 'I lost the game' because I did," Bell said. "There was a bad exchange between me and Willie. As a captain I can't do that."
Bell's two costly turnovers overshadowed his otherwise productive day, as he ran for a season-high 158 yards, including a 50-yard touchdown run in the second quarter.
Bell's performance was a bit of a microcosm of Arizona's game, in that the Wildcats played well, but mistakes kept them from winning.
"It's almost like it's contagious," Stoops said. "We have to get that corrected and keep working."
A bright spot for the Wildcats was the play of Tuitama, who went 18-of-34 for 182 yards, two touchdowns and an interception.
"He played well. He has some correctable mistakes," Stoops said. "We will have to keep working to get better. He's pretty special."
Tuitama replaced redshirt sophomore Richard Kovalcheck midway through the first quarter with Arizona trailing 7-0. Many of the 48,052 in attendance gave the true freshman a round of applause as he ran onto the field for his first collegiate action.
Summary
Oregon (7-1, 4-1 Pac-10)
1st Quarter: 21
2nd Quarter: 0
3rd Quarter: 0
4th Quarter: 7
Arizona (1-6, 0-4 Pac-10)
1st Quarter: 0
2nd Quarter: 14
3rd Quarter: 7
4th Quarter: 0
Final: 21
"At first there was (a nervous feeling), but after that I got into a rhythm," Tuitama.
The Wildcats fell behind 21-0 in the first quarter, but battled back and tied the game on a 17-yard touchdown pass from Tuitama to fellow freshman Mike Thomas in the third quarter.
"I'm extremely proud of him," said offensive coordinator Mike Canales. "I think the future is bright for Arizona, and the future is bright for Willie Tuitama."
Redshirt freshman tight end Travis Bell also got in on the newcomers' coming-out party, grabbing the first catch and touchdown of his Wildcat career.
For the second week in a row, the Wildcats gained more yards than their opponent and won the time-of-possession battle but came up short on the scoreboard.
Arizona outgained the Ducks (7-1, 4-1) 411 to 307, but gave up defensive and special teams touchdowns to drop its fourth consecutive Pac-10 game.
Special teams were a big factor in the game, with Oregon kicker Matt Evensen missing three field goals and the Ducks blocking two Arizona punts.
Along with the turnovers and blocked punts, the Wildcats dropped several passes and committed several penalties, all mistakes that Stoops said continue to haunt his team.
"You just have to understand how to do things every single time. It's fundamentals, just doing things right, being accountable," he said. "It's something we struggle with."


Write a Letter to the Editor