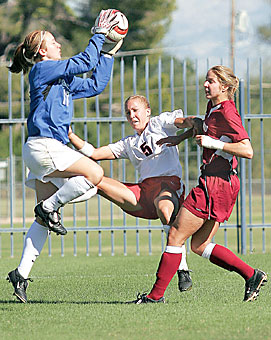 Claire C. Laurence/Arizona Daily Wildcat

Mallory Miller is stopped by Stanford's Erica Holland, left, and Haley Hunt as she attacks the goal during No. 22 Arizona's 2-1 win over the Cardinal yesterday afternoon at Murphey Stadium. Miller had two goals in the win, giving her 17 on the season.

By Amanda Branam
Arizona Daily Wildcat
Monday, October 24, 2005
Print this


'Awesome win' snaps 10-day winless skid

The Arizona soccer team returned to the win column for the first time in more than a week yesterday, defeating No. 21 Stanford 2-1 at Murphey Stadium.

Senior midfielder-forward Mallory Miller scored two goals to lead the Wildcats (9-4-3, 4-1-1 Pacific 10 Conference), who got their first win since Oct. 14, in the absence of head coach Dan Tobias, who completed a two-game suspension.

The NCAA suspended Tobias after he received his second red card of the season for arguing a call at the end of regulation in Arizona's 2-1 double-overtime loss to Washington State on Oct. 16.

"It was an awesome win," said Wildcat assistant coach Harold Warren in a press release. "The Pac-10 is very tough."

Stanford's Kate Mannino tied the game off an assist from Lizzy George in the 56th minute.

Miller netted her 17th goal of the season on a free kick in the 79th minute after Stanford (8-5-2, 2-2-1) was whistled for a hand-ball penalty.

"We played very well," said Warren, who earned his first win as a head coach in Tobias' place.

Weekend recap

Friday:
No. 22 Arizona ties No. 10 Cal in double overtime 0-0
McCall Smith (sophomore goalkeeper): 10 saves
Sunday: No. 22 Arizona defeats
No. 21 Stanford 2-1
Mallory Miller (senior midfielder-forward): 2 goals (17)
Arizona sophomore goalkeeper McCall Smith had a game-high 10 saves in a weekend in which she also posted a clean sheet against California on Friday.
Defense was the name of the game in the 0-0 double-overtime tie between the Wildcats and No. 10 Cal on Friday night.
Arizona kept the Cal offense off the scoreboard despite 21 shots in the game, 10 of those on goal.
The Golden Bears (11-2-2, 4-0-1) had their best chance to score in the 65th minute when forward Liz Eisenberg had a breakaway and took it into the box, but freshman defender Savanah Levake slid in and knocked the ball away.
"Cal's a good team. They knock the ball around, they've got some pace all over the field," Warren said Friday. "We were solid (defensively). The back four is coming along."
With about two minutes left in the opening half, the Wildcats got a scare when Miller left the game with what appeared to be a left knee injury after a knee-on-knee collision with a Cal player.
Miller returned in the 59th minute after the injury was determined to be a knee bruise. She led the Wildcats with three shots on goal.
Sophomore defender Kaity Heath left the game for a time as well with a shin injury but also returned in the second half.
"I think defensively, not just our back line but our whole team did really good," said Levake after Friday's game. "You know, you win some, you lose some and you tie some."
Arizona hosts ASU on Saturday at 7 p.m. in its final regular-season home game.
"We are going to try to put them away," Warren said in the release. "We don't look at it as a rivalry. It is just another game, and we plan on playing competitively."
---
- Information taken from www.arizonaathletics.com.


Write a Letter to the Editor