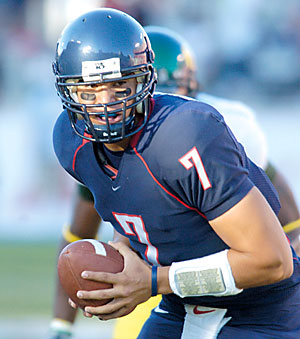 Chris Coduto/Arizona Daily Wildcat

Arizona freshman quarterback Willie Tuitama saw the first action of his collegiate career Saturday evening. Tuitama replaced sophomore quarterback Richard Kovalcheck midway through the first quarter of Arizona's 28-21 loss to No. 15 Oregon.

By Kyle Kensing
Arizona Daily Wildcat
Monday, October 24, 2005
Print this


In a scene that has become all too familiar for the Arizona football team this season, Wildcat players and coaches walked off the Arizona Stadium field Saturday with looks of dejection after another close loss.

Some Wildcat fans had a different view. Following Arizona's 28-21 defeat by No. 14 Oregon, hundreds of spectators near the Arizona locker room repeatedly shouted the same thing.

"Great game, Willie!"

Freshman quarterback Willie Tuitama, the gem of head coach Mike Stoops' 2005 recruiting class, made his debut in the first quarter Saturday, answering a week's worth of questions and making one thing evident - the future of Arizona football is now.

"I think you've got to go with (No.) 7," said offensive coordinator and quarterbacks coach Mike Canales. "You've got to let him play next week, see what he can do."

Tuitama ended the night with 182 yards and two touchdowns on 18-of-34 passing, playing with poise beyond his 18 years of age.

"I said from day one when we were recruiting him, he had 'the quality,' and he does," Canales said.

Stoops announced last week that if the situation called for it, he was ready to remove Tuitama's redshirt and play him against Oregon.

That situation presented itself with 8:14 remaining in the first quarter.

Willie Tuitama bio
No. 7 Quarterback
Freshman 6-foot-2 < 212 lbs.
Stockton, Calif. St. Mary's>
2005 stats
Through one game:
18-of-34, 182 yards, two touchdowns, interception
Redshirt sophomore Richard Kovalcheck, who opened the game with four straight completions, was intercepted on Arizona's second drive by Ducks defensive back Patrick Chung, opening the door for Tuitama's entrance.
From the onset, it appeared the freshman was in for a rough debut. On his first pass attempt, Tuitama was intercepted on a high, arching pass to first-year receiver Mike Thomas, but a pass interference call overturned the play.
"I was happy about (the penalty)," Tuitama said. "I didn't want my first pass to be an interception."
The Stockton, Calif., native regrouped and in the second quarter led Arizona's first scoring drive, which culminated in a 14-yard touchdown strike from Tuitama to fellow freshman Travis Bell.
The score was a career first for both players.
"Willie did a great job," said senior tailback Mike Bell. "You saw as the game went on he got better and better and better."
The combination of Tuitama and Bell capitalized on strong defensive play and brought Arizona back to a 21-21 deadlock heading into the fourth quarter.
"(Tuitama) came in and made some plays," Mike Bell said. "He came out shaky, so we stayed by his side and he persevered."
Tuitama found the end zone a second time in the third quarter, thanks in no small part to a big Thomas run on a screen pass, a play that put Arizona in reach of an upset.
"When we were being recruited, (Tuitama) let me know he was committed to getting this thing right, so I wasn't even shocked (by his play) at all," Thomas said.

I said from day one when we were recruiting him, he had 'the quality,' and he does. ... He's got the moxie to be a quarterback.
- Mike Canales, offensive coordinator and quarterbacks coach

It wasn't all big plays and touchdowns for Tuitama in his opener, however.
The freshman also saw his share of hard knocks in a sometimes less-than-friendly welcome to Pacific 10 Conference play.
Oregon linebacker Blair Phillips broke into the backfield on a blitz and sacked Tuitama in the fourth quarter. On the next play, Tuitama telegraphed a pass that Oregon cornerback Justin Phinisee intercepted.
Canales said plays like those are just part of the college game.
"He's got the moxie to be a quarterback," Canales said. "You got to see a little bit of it tonight, and he'll continue to get better with each and every snap."
"(The college game) is a whole lot faster," Tuitama said. "Everybody just flies around, and it's a whole lot of pressure playing in front of so many people."
Stoops said if Tuitama continues to produce in practice this week, the starting job is his Saturday at Oregon State.
"We'll play the best players who give us the best chance of winning," Stoops said.


Write a Letter to the Editor