Tuesday, October 25, 2005


Sticks, stones beat words in Ohio
Ugly, vile ideas have existed throughout history, and many persist today. These ideas have created oppression, suffering and death to the point of genocide. Every measure should be taken to ensure these ugly ideas are refuted at every turn by accurate and logical reasons why those ugly ideas are wrong.
But a reasoned response is not what "America's Nazi Party" received when they visited Ohio. The neo-Nazis argued that a bunch of black gang members had take over the neighborhood and made it unsafe for their "Aryan brothers." [Read article]



Firearm 'protection bill' protects the wrong people
When deciding on accountability for civil cases, gun makers have now been removed from the ranks of those able to receive blame. On Thursday, the U.S. House of Representatives passed the Protection of Lawful Commerce in Arms Act, which shields manufacturers and dealers of firearms from facing liability lawsuits.
Proponents cite the legislative bill as an end to frivolous lawsuits filed by Americans each year. However, the bill resembles more of a federal method of escapism for gun manufacturers, spurred by political agendas and skewed statistics. [Read article]



Editorial: Biting the hand that feeds
State legislators irresponsible to neglect faculty salaries
"Education seems to be in America the only commodity of which the customer tries to get as little he can for his money." - Max Forman
It's not easy to be a state legislator these days. Public officials everywhere are grappling with soaring expenses, dwindling revenues and a sense that there are simply too many problems to be dealt with effectively. [Read article]



Mailbag
Immigration column rife with biases, inaccurate information
Kara Karlson's "A day without an American" column reminded me of rants I've heard from the likes of Bill O'Reilly and Ann Coulter. Ms. Karlson's piece was full of biases and loaded with inaccurate information. She claims undocumented immigrants are a drain on the welfare system. Yet impartial and scholarly studies reveal that few of them ever collect welfare benefits. [Read article]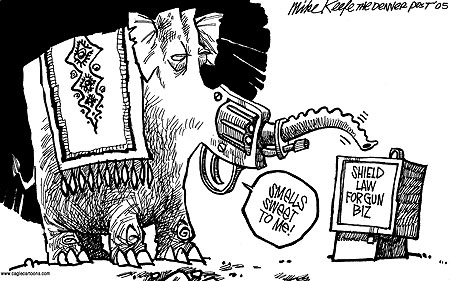 showAds('bigbutton')?>







showAds('mediumbutton')?>

showAds('wildlinks')?>