Wednesday, October 26, 2005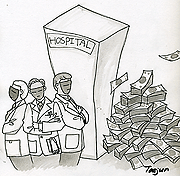 There is a health care crisis in America today. All over this country, good doctors are being driven out of business by exorbitant medical liability insurance costs.
This issue affects all Americans because everyone needs and deserves access to quality health care and comprehensive tort reform is the only way to ensure that care will be available when patients need it.
Ridiculous liability insurance premiums are making health care unavailable to more patients as doctors are forced to retire from medicine, leave the state or simply refuse to accept patients who require high-risk procedures. [Read article]

·
On the doorstep of democracy
·
Voters, don't make a U-turn
·
Editorial: Bush's tax policies target wrong population
·
Mailbag
Latest Issue: October 20, 2005
Latest Issue: October 18, 2005
What can be said about hair that hasn't been said before? It's important? Well, it protects our heads from all kinds of calamities: low branches, the hot Arizona sun, bird poop.
After all, the existence of hair has been a pivotal part of our human history. The cave men pulled the cave women by it during the Ice Age. Rapunsel let her man climb up it for wild nights of tower partying and fairy tale sex. Even today, don't we judge all politicians by the size and greatness of their hair? (So why didn't Kerry win then?) [Read article]

require('/home/webby/html/papers/98/polls/current.php')?>

showAds('bigbutton')?>







showAds('mediumbutton')?>


showAds('wildlinks')?>