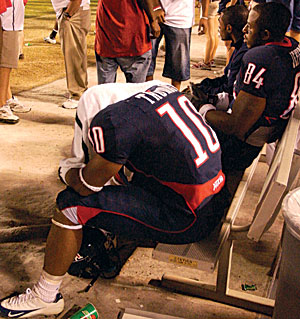 Chris Coduto/Arizona Daily Wildcat

Receiver Michael Thomas sits dejected on the bench in the final seconds of the second half of Arizona's 28-21 loss to No. 15 Oregon, Saturday at Arizona Stadium.

By Charles Renning
Arizona Daily Wildcat
Wednesday, October 26, 2005
Print this


Every time Arizona football head coach Mike Stoops walks into his weekly press conference, it has to feel like the movie "Groundhog Day."

He talks about the mistakes that were made and the chances the Wildcats missed.

Following Arizona's 28-21 loss to No. 14 Oregon on Saturday, it was more of the same.

"We had every opportunity to win the game," Stoops said Monday. "I really felt we had control late in the third and fourth quarter. We just weren't quite good enough to get it done."

The Ducks used four Arizona turnovers, two blocked punts and a punt return to keep the Wildcats winless in the Pacific 10 Conference this season.

"It's not acceptable to lose. Playing close, we've got to make sure that's not our mission," Stoops said. "We're having a hard time winning these games, but we're giving ourselves great opportunities against some good competition. We're close, but sometimes we seem so far away."

Oregon was the fourth top-15 team Arizona has lost to in its last five games, and for the second week in a row, the Wildcats out-gained and pretty much outplayed their opponent.

Arizona beat the Ducks in yardage 411 to 307 and topped Stanford a week earlier in that category 271 to 195, but fell short in both contests.

"Of course we can play with anyone, and we just have to quit making those mistakes," said sophomore Antoine Cason. "That's what keeps hurting us. We say it every day and every week, but we just have to keep eliminating them."

"A lot of it has to do with focus and concentration for a 60-minute period," Stoops said. "As soon as you become careless, something is going to bite you."

The Ducks bit Arizona three times when the Wildcats were punting.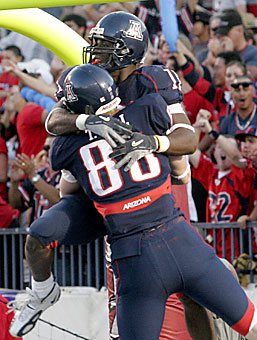 Chris Coduto/Arizona Daily Wildcat
Senior running back Mike Bell embraces freshman tight end Travis Bell after Mike Bell's 50-yard run for a touchdown during Arizona's 28-21 loss to No. 14 Oregon on Saturday at Arizona Stadium. Bell's 2,819 career rushing yards are fifth in the program's history.
Oregon cornerback Justin Phinisee had a 69-yard punt return, while the Ducks blocked two Danny Baugher kicks.
Stoops said the two blocks were a combination of a great effort by the defense, poor technique by Arizona and a lack of hustle with the kick.
Henry waits as rushing game picks up
With all possible hope for a bowl game gone with the loss to Oregon, the Wildcats continue to look to the future.
Stoops already made a move at quarterback, bringing in freshman Willie Tuitama, and was asked Monday about the future role of sophomore running back Chris Henry, who entered the season with a great deal of expectations.
Henry has only 28 yards on 13 carries in 2005 and has struggled with handling the football.
"It's been hard to get him into a situation to get him back," Stoops said. "With Mike and (senior) Gilbert (Harris), the situation (to get Henry carries) hasn't presented itself. We'd love to get him back in there and get him going again, and we have to. Hopefully we'll get him going by the end of the year because he's got a great future."
Another factor in Henry's lack of playing has been the recent resurgence of the Arizona running game.
Senior running back Mike Bell had 158 of the team's 212 yards against Oregon, including runs of 20 and 50 yards.
With 110 rushing yards against Stanford, Arizona's average of 161 yards per game the last two weeks is nearly double its average of its first five games (81).


Write a Letter to the Editor