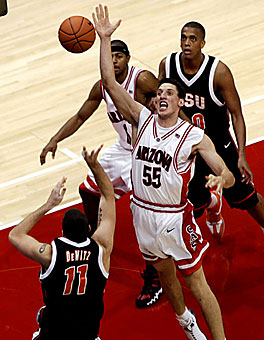 File Photo/Arizona Daily Wildcat

Junior forward Ivan Radenovic tries to block a shot during last season's Pac-10 Tournament win over Oregon State. Radenovic is among Arizona's big men trying to adjust to a new wing-heavy offense for the upcoming season.

By Roman Veytsman
Arizona Daily Wildcat
Wednesday, October 26, 2005
Print this


In this edition of Pastner's Notebook, Arizona men's basketball assistant coach Josh Pastner talks about the team's new offense, how the players are adjusting and updates on Jawann McClellan's and Chris Rodgers's injuries.

Wildcat: Head coach Lute Olson has installed some new offensive schemes this year. Can you explain the system?

Pastner: We're just trying to do some different things right now. We're doing a lot of 4-out-1-in, really trying to space and spread the court. Over the last four years, we've been the highest scoring points per game team at 83.3 points per game. ... As fast as we've played in the past, we're going to play even faster this year, and we're going to put even more points on the board.

Wildcat: What was the reason for the change?

Pastner: It was all personnel-based. We are trying to utilize our athleticism, our guys being versatile, our guys being lean, long, athletic.

Wildcat: How have the players been adjusting to the new offense, now that you've had about two weeks of practice?

Pastner: It's going to take time. Guys are picking it up day by day. It's been getting better daily. It's not going to happen overnight, and a lot of it is reading and reacting and just learning. There's been an adjustment period (for the big guys). I've been really impressed with the four guys being able to pick it up, like Ivan (Radenovic), Isaiah (Fox), Bret (Brielmaier).

As fast as we've played in the past, we're going to play even faster this year and we're going to put even more points on the board.
- Josh Pastner mens basketball ass. coach

Wildcat: Defensively, are you looking to pressure the ball more this year, full court?
Pastner: Absolutely. With our length, our speed, our athleticism, our depth, we want to utilize all that, and in order to do that, we need to get out and press and make teams play the way we want them to play.
Wildcat: If there's one thing you've wanted to emphasize thus far during practice, what would that be?
Pastner: We've really tried to pinpoint spacing on offense and really getting after it on the defensive end in terms of really making people play fast and causing controlled chaos.
Wildcat: Are the guys anxious to finally play their first game (November 21 against Kansas in Hawaii)?
Pastner: Of course. They're ready to play against somebody else. We've got the Red/Blue game on November 3 and our first game when we actually play someone else is going to be on November 9 (in an exhibition game against Sonoma State), which will be good for our guys to know what's going on and get a feel of who we're playing against. You're looking (at) two weeks until we play someone other than ourselves, and that will be a great test for us, to see where we are against somebody else.
Wildcat: How is Jawann's injury (tendonitis in his right leg)?
Pastner: He's been just with the trainer right now, getting fully healed and he'll be back in no time.
Wildcat: How is Chris Rodgers' injury (sprained knee)?
Pastner: He's been doing some things (with the team). ... Our trainer, Justin Kokoskie, is doing the things that they need to do to ease them in at the right time.


Write a Letter to the Editor