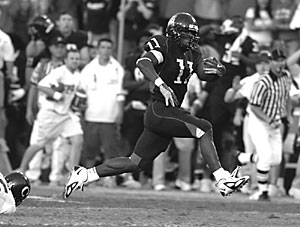 Chris Coduto/Arizona Daily Wildcat

Arizona's Mike Bell runs to the end zone during a 50-yard run, giving Oregon a 21-14 lead going into halftime of Oregon's 28-21 win over Arizona on Saturday.

By Kyle Kensing
Arizona Daily Wildcat
Wednesday, October 26, 2005
Print this


Senior tailback Mike Bell, a name synonymous with the Arizona football team for each of the last four years, ran for 155 yards and a touchdown Saturday in a 28-21 loss to No. 14 Oregon.

Bell also had two fumbles, something he, as a team captain, said is unacceptable.

His rushing this season - including games of 38 and 53 net yards - has been a microcosm of Wildcat football in his time with the program - peaks and valleys abounding.

Bell is looking to finish his Arizona career on four highs with wins in each of the team's final four games, beginning Saturday at Oregon State, while adding to his 2,819 career yards, good for fourth in team history.

Bell spoke with the Arizona Daily Wildcat after practice last night about beating the Beavers, interacting with Wildcat fans and everyone in Tucson's favorite subject, beating ASU.

Wildcat: What made the running game so successful (212 yards) against Oregon?

Bell: Offensive line. (The) offensive line did a great job blocking, opening up creases, staying on the blocks. They did a great job. They've improved week by week, so I'm excited for what the future holds.

Wildcat: How does the offense differ with freshman quarterback Willie Tuitama behind center as opposed to redshirt sophomore Richard Kovalcheck?

Mike Bell
No. 11
Running back
Senior
6-foot-1
218 lbs.
2005 stats
Through seven games: 126 carries, 608 yards (4.8 yards per carry), three touchdowns
Bell: I think (Willie) brings a different accent to the game. He can launch the ball downfield. He's young, and the crowd gets into the game (for him). That can be a good thing.
Wildcat: How was Tuitama taking over opening things up for you and fellow senior running back Gilbert Harris?
Bell: It's opened up some holes. The defense expects the passing game.
Wildcat: After every home game, you spend 10, 15 minutes, half an hour with the fans. Why do you feel that's important?
Bell: So we can keep support. I just feel like they do so much for us, so I feel like it's my obligation to do something for them. Plus I like doing it. I know when I was a little kid, I was always excited to see football players, so I remember how that used to make me feel.
Wildcat: Head coach Mike Stoops said he expects OSU to blitz a lot with it being Willie's first start. How is that going to open things up for you and Gil?
Bell: It's going to open it up big time. We're going to crease them, catch them with their pants down. That's going to work to our advantage. (Offensive line) coach (Eric) Wofford and (offensive coordinator and quarterbacks) coach (Mike) Canales and the rest of the offensive staff is doing a great job. We just have to execute.
Wildcat: I know you don't want to look ahead, but ASU is a month away, and you're going to be playing in your home city. What does a win mean to you, that being your last U of A game?
Bell: That'd be the ultimate. That's not to say these other games don't matter, but to win in Phoenix, where I grew up, played high school football (at Tolleson), at the place everyone expected me to go, would be great.


Write a Letter to the Editor