Tuesday, November 1, 2005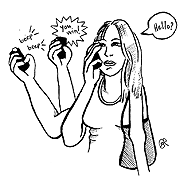 Our generation has experienced the improvement of technology in leaps and bounds (and even hops in nerd-speak). Cell phones no longer resemble bricks (recall Zach Morris' stylish piece) but easily fit into the palm of the hand. Text messaging features replace archaic pagers.
But, with this vast array of new gadgets and gizmos, we have also seen a troubling side effect: the decline of people's ability to function and reason while engaged with such a device. [Read article]

·
The paradox of property
·
Editorial: Homecoming: It's all greek to us
·
Mailbag
Latest Issue: October 27, 2005
Latest Issue: October 25, 2005
Are you scared yet?
That time of year is approaching once again. The days are no longer endless, and tank tops are being replaced with long sleeves. But along with chilly nights comes one juicy holiday.
Ghosts and goblins are not just a thing of our childhood. In fact, Halloween seems to get better as we reach our adolescence. We are no longer restricted to a two-hour window of trick-or-treating and parents forcing us to bed with the ultimate sugar high. Now, Halloween is yet another reason to party. [Read article]

require('/home/webby/html/papers/98/polls/current.php')?>

showAds('bigbutton')?>







showAds('mediumbutton')?>


Tuesday
---
5:30 pm
UATV: Daily Dose
6 pm
UATV: Wildcast
6:30 pm
Wildly Popular
7 pm
Life as a House
9:30 pm
Life or Something Like It
11:30 pm
The Lord of the Rings: The Fellowship of the Ring

Show Schedule
Interview Archives

showAds('wildlinks')?>