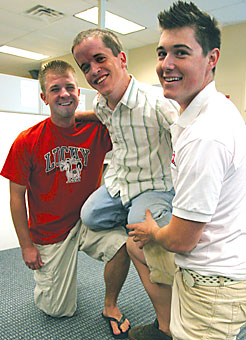 Jake Lacey/Arizona Daily Wildcat

From left: ASUA Sens. Ryan Montana Erickson, Matt Loehman and Patrick Cook. Loehman is undergoing surgery at University Medical Center and will be unable to contribute his skills to the senate for some time.

By Zach Colick
Arizona Daily Wildcat
Tuesday, November 1, 2005
Print this


Loehman may have to resign from post on ASUA senate

A student government senator will be undergoing spinal cord surgery today to alleviate the pain and discomfort which has left him powerless in performing tasks as small as gripping a pen to complete homework assignments.

Associated Students of the University of Arizona Sen. Matt Loehman has been suffering from spinal stenosis since late July, a condition in which the spinal cord becomes narrowed and circulation in the arms and legs becomes limited.

Loehman also suffers from achondroplasia, the most common form of dwarfism, and is scheduled to undergo an eight-hour-plus surgical procedure today at University Medical Center to help decompress his spinal cord to return his dexterity.

Sen. Ryan Montana Erickson said Loehman is dedicated to his position and is dependable.

"He's able to bridge the gap to bring contrasting views together in order to find some sort of compromise," said Erickson, a junior majoring in public policy and management. "Matt never lets personal emotion dictate what the objective is. He's very rational, and we as senators recognize that sincere approach."

ASUA will continue working without Loehman starting today. Loehman will not have his decision-making powers to carry out projects he is overseeing or his say in matters conducted during the weekly senatorial meetings, said Erin Hertzog, ASUA executive vice president.

No replacement has been named for Loehman, but he may be forced to resign from his position if he's unable to return to school to finish the semester and carry out his duties as a senator, said Hertzog, a journalism junior.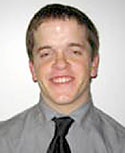 Matt Loehman, ASUA senator
In case Loehman cannot return to his senate position, he will name a replacement who must be approved by ASUA President Cade Bernsen.
With the 10 member senatorial group being so close, many within ASUA said losing someone like Loehman for a period of time is tough, because many describe him as the glue that holds the senate together, Hertzog said.
"It's a very emotional time and it makes you feel powerless," said Rhonda Tubbs, a business economics senior. "It's great that he refuses to let it beat him."
Loehman's clear headedness and his ability to stress his opinion in a tactful way will be missed, but Tubbs said ASUA will carry on what he started.
Loehman's procedure will be conducted by Dr. Marco Marsella, an associate professor of clinical surgery, in hopes of regaining the sensation and mobility he's lost since August.
Doctors will have to go through Loehman's mouth to get to his spinal cord to conduct the procedure and will use a tool to cut off part of the third vertebra, which is only 3 millimeters long and needs to be 13 millimeters.

If the surgery is successful, I will have the power of optimism to make my recovery that much more pleasant.

Doing this will restrict Loehman's neck mobility and his spinal cord won't be as supported as it was before, but Loehman said the procedure must be done.
"The surgery, due to its location, carries risks, but doing nothing will be a bigger risk. I would be a quadriplegic without acting to undergo this procedure," said Loehman, a pre-business junior.
Loehman said he's unsure of what will become of his position as a senator in ASUA, but is intent to finish out the semester as both a student and a student-leader.
Though doctors estimate recovery time to be as long as three months, Loehman said his goals are to return sooner than expected because of his abilities to bounce back from surgeries in the past.
"If the surgery is successful, I will have the power of optimism to make my recovery that much more pleasant," Loehman said.


Write a Letter to the Editor