Tuesday, November 1, 2005


Football notes: Cats snare Pac-10 honors
Kicker Folk, freshman safety Johnson tabbed as players of week after win
Two days removed from a 29-27 win at Oregon State, Arizona safety Michael Johnson and kicker Nick Folk earned Pacific 10 Conference Player of the Week honors for defense and special teams, respectively.
Johnson accounted for three of the Wildcats' six interceptions against the Beavers, including one he returned for a 40-yard touchdown in the first quarter. [Read article]




Women's hoops battles men
Squad makes first public showing without 'Polkey'
The Arizona women's basketball team starts its 2005-06 season tonight at 7 in McKale Center with the annual Red-Blue Game, pitting the Wildcats against their male practice squad.
The game marks the first time Arizona will play a game in public since the death of star center Shawntinice Polk on Sept. 26. [Read article]



On the air
A sampling of what's on today
Talk: 'Sports Fire'head-to-head sports debate
Hosts Adam Green and Joe Rabinowitz KAMP 1570 AM - kamp.arizona.edu - 6 p.m.
CFB: College Football Primetime
Alabama-Birmingham at Memphis NIT ESPN2 - 5:30 p.m.
Poker: World Series of Poker
Main Event - ESPN - 5 p.m. [Read article]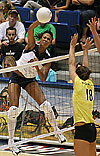 Glass earns 4th Pac-10 weekly award
Senior outside hitter Kim Glass of the No. 8 Arizona volleyball team was named the Pacific 10 Conference Player of the Week for the week of Oct. 24-30, Pac-10 commissioner Tom Hansen announced yesterday.
Glass recorded back-to-back double-doubles in the Wildcats' matchups against Washington State and No. 2 Washington last week.
The Lancaster, Pa., native had 22 kills and 15 digs for her 13th double-double of the season in a four-game victory over the Cougars on Friday, surpassing Barb Bell to become Arizona's all-time kills leader with 1,870. [Read article]



Men's golf tied for 7th in San Martin
The Arizona men's golf team is tied for seventh place after two rounds yesterday at the CordeValle Collegiate in San Martin, Calif.
The Wildcats carded a 6-over 582, 18 shots behind leader Northwestern.
Junior Henry Liaw is tied for 10th individually at 1-under par after shooting a second-round 70, and junior Josh Esler finished at even par for the day.
Liaw's strongest effort came on the back nine, where he finished 3-under par in both rounds. He eagled the par-5 18th in the second round, a highlight among his 10 birdies, five bogeys and a double bogey. [Read article]



Women's golf in second after first round in Las Vegas
Freshman Wilson tied for 2nd individually, Cats shoot 3-under
The Arizona women's golf team finished in second place yesterday in the Las Vegas Founders Collegiate Showdown in Las Vegas, shooting a 3-under 285.
No. 2 UCLA leads the tournament after shooting a team-record 9-under 279, with Pepperdine and Kent State tied for third at an even-par 288.
"Being six shots behind in college golf really isn't that much. We are still in the game," said Arizona head coach Greg Allen. "I'm excited for these next few days." [Read article]



Men's basketball notes: Olson tabs team leaders
Adams sole Cat to receive preseason buzz for awards
While the Arizona men's basketball team was once again ranked in the top 10 in the preseason ESPN/USA Today Coaches Poll, coming out at No. 9, only one Wildcat has garnered attention for any national award.
That player is none other than senior forward Hassan Adams, a preseason Wooden Award candidate, and according to head coach Lute Olson, it is his team this season. [Read article]




showAds('bigbutton')?>







showAds('mediumbutton')?>

showAds('wildlinks')?>