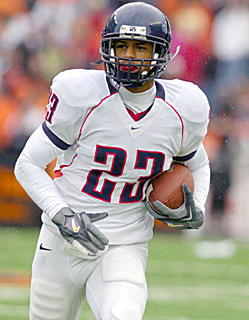 Chris Coduto/Arizona Daily Wildcat

Arizona's Michael Johnson was selected as the defensive Pacific 10 Conference Player of the Week for his role in helping the Wildcats beat Oregon State 29-27 Saturday in Corvallis, Ore. Johnson had three interceptions, one of which was returned for a touchdown.

By Kyle Kensing
Arizona Daily Wildcat
Tuesday, November 1, 2005
Print this


Kicker Folk, freshman safety Johnson tabbed as players of week after win

Two days removed from a 29-27 win at Oregon State, Arizona safety Michael Johnson and kicker Nick Folk earned Pacific 10 Conference Player of the Week honors for defense and special teams, respectively.

Johnson accounted for three of the Wildcats' six interceptions against the Beavers, including one he returned for a 40-yard touchdown in the first quarter.

The junior college transfer from Tyler, Texas, also racked up a career-high nine tackles.

"(Johnson) scored the highest we've had a defensive back score with interceptions, a touchdown, tackles," Arizona head coach Mike Stoops said yesterday at his weekly press conference. "It was a ridiculous amount of quality points he accumulated."

Folk, who played in place of injured punter Danny Baugher, booted eight punts for 336 total yards and handled his regular duties with extra-point attempts, field goals and kickoffs.

His 56-yard punt late in the fourth quarter pinned the Beavers at their own 27 on their last possession of the day.

"His punt was the play of the game," Stoops said. "That really preserved the win for us.

"Nick has a strong leg both ways. He can be a punter or a kicker," he said. "That's not easy to do."

The duo's conference recognition was a fitting cap to Arizona's first winning weekend since mid-September.

"My food tasted a whole lot different on Sunday," Stoops said with a laugh. "It's a difficult time, but we've made some great improvement.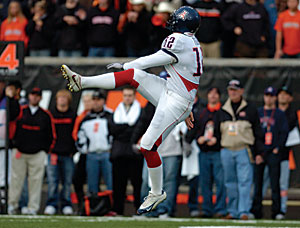 Chris Coduto/Arizona Daily Wildcat
Junior placekicker Nick Folk took over the punting duties for the Wildcats after senior punter Danny Baugher injured his knee in the Wildcats' game against Oregon on Oct. 22. Folk was named the Pac-10 special teams Player of the Week after averaging 42 yards on eight punts during Saturday's 29-27 win over Oregon State.
"A lot of people go by wins and losses (in gauging a team)," he said. "But ... the one stabilizing force behind everything we've done is our kids have prepared and played hard."
In five of their six losses, the Wildcats have been within a touchdown or less in the fourth quarter, but were unable to come away with a win.
Stoops said the team got over that hump Saturday, leading throughout in a close victory that required strong play in the final stanza.
With OSU mounting a comeback, Folk's punt and redshirt freshman defensive end Johnathan Turner's fumble-causing sack sealed the win.
"Coach Stoops came in with that attitude that we're going to win, and I'm behind him 100 percent because I want to win bad," said junior safety Marcus Hollingsworth, who recorded 11 tackles Saturday.
"(The win) is something that we needed," said redshirt freshman linebacker Ronnie Palmer. "It couldn't have come at a better time."
Palmer, who had a career-high 14 tackles against OSU, said he is looking to do his part Saturday in helping Arizona maintain its winning ways for the Homecoming game against undefeated No. 7 UCLA.
"This challenge, this is what we need right now," he said. "Everybody's looking forward to the game. The excitement with Homecoming ... what better time than now (for an upset)?"
The linebacker from Spring, Texas, said Saturday's return flight to Tucson had a much different feel than in previous weeks.
"I slept a lot easier. The coaches were smiling, cracking jokes, a lot of things we hadn't seen," he said. "It's a lot better when you win."
Injury report
Wide receiver and kick returner Syndric Steptoe missed Saturday's game because of a concussion suffered Oct. 22 against Oregon, but Arizona's most potent special-teams weapon should return for the UCLA contest, Stoops said.
Senior offensive lineman Kili Lefotu should also be back from an ankle injury that sidelined him in Corvallis, Ore.
Arizona remains without the services of sophomore linebacker Dane Krogstad, who injured his knee Oct. 8 against Southern California, and junior defensive tackle Paul Philipp, who has struggled with shoulder problems.


Write a Letter to the Editor