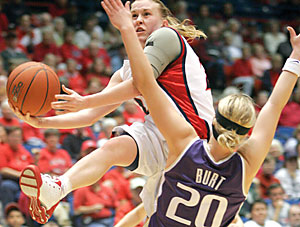 Claire C. Laurence/Arizona Daily Wildcat

Sophomore guard Jessica Arnold goes for a layup over a Washington defender last season in McKale Center. Arnold will play a larger role in the team's offense this season with the death of Shawntinice Polk and graduation of Dee-Dee Wheeler.

By Michael Schwartz
Arizona Daily Wildcat
Tuesday, November 1, 2005
Print this


Squad makes first public showing without 'Polkey'

The Arizona women's basketball team starts its 2005-06 season tonight at 7 in McKale Center with the annual Red-Blue Game, pitting the Wildcats against their male practice squad.

The game marks the first time Arizona will play a game in public since the death of star center Shawntinice Polk on Sept. 26.

There will be a moment of silence in her honor before tip off.

"It's going to be different because it's our first time out there without Polkey," said junior guard Joy Hollingsworth.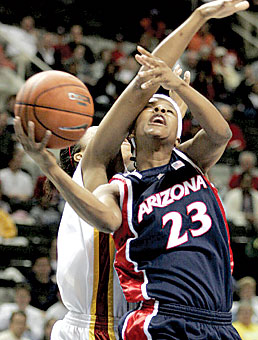 Claire C. Laurence/Arizona Daily Wildcat
Senior forward Natalie Jones is fouled while going to the hoop against USC last season. Jones, the team's lone captain, is the Wildcats' leading returning scorer.
As the team continues its grieving after losing its star player, Arizona head coach Joan Bonvicini said fans can best help the Wildcats by filling the stands.
"Buy season tickets and come to our games," she said. "I know we'll be fun to watch."
Sophomore guard Jessica Arnold said the game will be just like the team's practices, where they often scrimmage against men.
"It's not really more, 'Oh, we have to beat the guys.' They're just there to make us better," she said. "If we play against them, we know if we go against any girls, it's going to be (that) the guys are even more tough, so it's a tough test to see where we're at.
"If we can beat them, it's a plus," she said.
IF YOU GO
2005 Red-Blue Game
Today • 7 p.m.
McKale Center
The men's team consists of sophomore guard Jessie Robinson and a group of former high school players, whose physical presence helps the women's team prepare for the regular season.
In last year's game, Bonvicini rotated some of her players between the two teams.
"We're playing people who are very athletic and in some ways taller, so I really think it'll be a good measuring stick," Bonvicini said.
The game marks the Wildcat debut of Hollingsworth, who sat out last season as a redshirt after transferring from San Francisco.
Hollingsworth scored a team-high 24 points and had five rebounds for the Red team last year in her only action of the season.
"I'm really excited for it," she said. "It was hard to sit on the bench."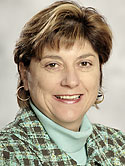 Bonvicini
Hollingsworth said fans should expect a fast-paced game, as the Wildcats practice the pace they hope to impose on opposition later in the season.
"We're going to go up and down in transition," she said. "We're going to be a fast-break team."
Bonvicini said Arizona is excited to play in public after frequently scrimmaging in practice the past few weeks.
"We're going to compete," she said. "We want to see where we are offensively and see defensively where we match up.
"I'm pleased with our ability to learn and pleased with (the players') intensity," Bonvicini said. "They have really good chemistry. The kids want to do well."
Projected lineup


Amina Njonkou
No. 32 • Center
6-foot-1 • Freshman


Natalie Jones
No. 23 • Small forward
5-foot-10 • Senior

Chι Oh
No. 22 • Power forward
6-foot • Sophomore

Ashley Whisonant
No. 12 • Point guard
5-foot-8 • Sophomore

Jessica Arnold
No. 20 • Shooting guard
5-foot-4 • Sophomore


Write a Letter to the Editor