Wednesday, November 2, 2005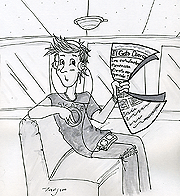 Spanish is the new trendy language. Much like The Postal Service, the rhythms are catchy, the lyrics are hip and the sound is unique. Its listeners are also growing at an impressive rate.
It is to no surprise, then, that a member of our student government is currently touting a proposal to have the Arizona Daily Wildcat include Spanish articles.
"What a wonderful, novel idea," I initially thought. Majoring in Spanish myself, the thought tickled my soul and warmed the cockles of my bilingual heart. [Read article]

·
Editorial: Skewering 'Scalito'
·
Mailbag
Latest Issue: October 27, 2005
Latest Issue: October 25, 2005
Are you scared yet?
That time of year is approaching once again. The days are no longer endless, and tank tops are being replaced with long sleeves. But along with chilly nights comes one juicy holiday.
Ghosts and goblins are not just a thing of our childhood. In fact, Halloween seems to get better as we reach our adolescence. We are no longer restricted to a two-hour window of trick-or-treating and parents forcing us to bed with the ultimate sugar high. Now, Halloween is yet another reason to party. [Read article]

require('/home/webby/html/papers/98/polls/current.php')?>

showAds('bigbutton')?>







showAds('mediumbutton')?>


Wednesday
---
5 pm
UATV: Daily Dose
6 pm
UATV: Wildcast
6:30 pm
Wildly Popular
7 pm
The Girl Next Door
9:30 pm
Elf
11:30 pm
Cast Away

Show Schedule
Interview Archives

showAds('wildlinks')?>