Wednesday, November 2, 2005


Football notes: Win equals awards for Johnson, Tuitama
With wins usually comes personal recognition, and following the Arizona football team's first conference win of the season, the awards keep coming.
A day after being named the Pacific 10 Conference's defensive player of the week, junior safety Michael Johnson received Bronko Nagurski National Defensive Player of the Week honors yesterday for his performance in the Wildcats' 29-27 win over Oregon State on Saturday. [Read article]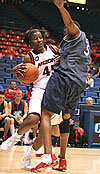 Women's Hoops: Women fall in 2 OT at Red-Blue
scrimmage
In what will be a season of firsts, the Arizona women's basketball team played its first game without star center Shawntinice Polk last night, falling 85-80 in double overtime to their men's practice squad in McKale Center.
The loss of Polk, who died Sept. 26, showed early, as the Red team, featuring members of the women's team, fell behind 16-2 and shot 3-for-19 during the Blue team's opening charge. [Read article]



Mc Clellan re-appeals academic ineligibility
Sophomore guard Jawann McClellan will play in the Arizona men's basketball team's Pepsi Red-Blue Game tomorrow, and he could return for the Wildcats' first exhibition game Nov. 9 against Sonoma State.
He added that a lawyer acting on his behalf has made a second appeal to restore his academic eligibility for the fall semester, which if successful would allow him to play in Arizona's first seven games of the season, including the season-opening EA Sports Maui Invitational in Hawaii from Nov. 21-23. [Read article]



On the air: A sampling of what's on today
Talk
West Coast Sports
The Left Side of Sports
KAMP 1570 AM
kamp.arizona.edu
6 p.m.

NBA
Philadephia 76ers at Detroit Pistons
6 p.m.
ESPN

M-Hoops
L.A. Lakers at Denver Nuggets
6 p.m.
ESPN [Read article]




Redshirt senior Ayers brings leadership, Final Four experience to volleyball squad
If the old adage holds - that with age comes experience - then redshirt senior middle blocker Angie Ayers has collected more wherewithal in her five years on the Arizona volleyball team than any of her teammates.
Since joining the team in 2001, Ayers has seen it all. As a redshirt freshman, Ayers was part of the Wildcats' 2001 Final Four team.
"Basically you could see just from coming out of that team what it takes to win," she said. [Read article]



A slice of bacon: I'm still swinging
Writer's block seldom comes to me. I can usually breeze through columns, journalism papers, e-mails to my mom and instant messenger conversations without too much hesitation.
But for some reason, I'm staring at my 12-inch Apple Powerbook G4, and it is doing the same thing - staring back.
I guess I could pump out a column about how our football team hasn't been televised since Watergate but seems to play better when it isn't. [Read article]



Liaw breaks through with second place at CordeValle
After the first two rounds of the CordeValle Collegiate on Monday, junior Henry Liaw of the Arizona men's golf team talked about the difficulty and unexpected speed of the course at the CordeValle Country Club in San Martin, Calif.
Those observations seemed not to matter yesterday, as the Rowland Heights native shot a 2-under 70 to finish the tournament in a tie for second place, by far his best finish of the season. [Read article]




showAds('bigbutton')?>







showAds('mediumbutton')?>

showAds('wildlinks')?>