scrimmage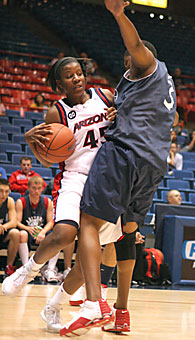 Jacob Konst /Arizona Daily Wildcat

Junior guard Joy Hollingsworth passes around Kevin Bennett during the women's basketball team's Red-Blue Game last night in McKale Center.

By Michael Schwartz
Arizona Daily Wildcat
Wednesday, November 2, 2005
Print this


In what will be a season of firsts, the Arizona women's basketball team played its first game without star center Shawntinice Polk last night, falling 85-80 in double overtime to their men's practice squad in McKale Center.

The loss of Polk, who died Sept. 26, showed early, as the Red team, featuring members of the women's team, fell behind 16-2 and shot 3-for-19 during the Blue team's opening charge.

Wildcats head coach Joan Bonvicini said she knew her team would have a rough start in its first outing without Polkey, for whom there was a moment of silence before tip off.

"We've done all these things, but then the reality is Polkey's not here," she said. "Now you're in uniform, and now it's for real, so it really hurt us early. We were just going through the motions.

"And then finally we started subbing, and some of the subs did a nice job."

The Red team shot only 9-for-32 (28 percent) in the first half, while never looking comfortable shooting the ball.

"They had a really tough time before the game, and it carried over into the game," Bonvicini said. "I was just happy that we finally got out of that funk because they need to play through it. I know things are hard, but you can't carry that on the court. You've got to separate it, but I thought we did a much better job in the second half."

The Red Team closed the deficit repeatedly the second half but trailed throughout the game. Jones hit two free throws with 2.1 seconds left to send the game into the first overtime before a crowd of 565.

Leading Scorers

Red Team:
Natalie Jones
No. 23 – Senior guard
18 points (team high)
Ché Oh
No. 22 – Sophomore forward
12 points, 13 rebounds (team high)

Blue Team:

Kevin Bennett
(Catalina High School)
No. 3 – Center
18 points (team high), three rebounds
"After we started playing and just realizing that they're just our practice guys that we beat up on everyday, we kind of got relaxed in the second half," said junior guard Joy Hollingsworth, who scored 16 points in her Wildcat debut. "We got fired up in the locker room by Coach B."
After Blue Team center Kevin Bennett tied the score 75-75 with a lay-up, sophomore guard Jessica Arnold took the lead back for the Red Team with a driving score of her own with three seconds left in overtime.
Playing pressure defense, senior guard Natalie Jones fouled guard D.J. Heltsey in the backcourt with two ticks left. He nailed both free throws to force a second extra period.
The Red Team had a chance to tie in the game's closing seconds, trailing 83-80, but freshman forward-center Amina Njonkou threw the ball away with 21 seconds left to end the threat.
"If you can play against those guys, you can play against anyone," Hollingsworth said. "They're quicker than any girls, and they're a lot stronger than most girls, too.
"I think that's something the coaches tell them, not to play soft with us because that's going to get us ready for the Pac-10," she said.
Jones led the Red Team with 18 points, while sophomore guard Ashley Whisonant poured in 16.
Both teams combined for 58 turnovers. Whisonant said that, as a point guard, she needs to cut down on giveways. She led the Red Team with seven of its 28 turnovers.
"I'm pleased with our rebounding and we forced some turnovers finally in the second half and in overtime," Bonvicini said. "The thing that hurt us were our turnovers. We gave them some easy baskets."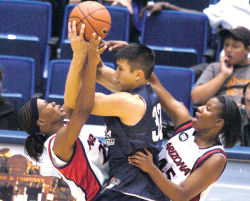 Chris Coduto/Arizona Daily Wildcat
Arizona's Natalie Jones (left) and Joy Hollingsworth fight for a free ball during the women's basketball team's Red/Blue game, Tuesday night, Nov. 1, 2005 in McKale Center, in Tucson, Ariz.
While the Red Team lost the game, they moved another step in coping with the loss of Polkey.
Last year Polkey would lead her team in a pre-game song and encourage them in the huddle before game time.
"I didn't think it was going to hit me this hard because I've been practicing without her so far," Jones said. "I think it really hit me before we walked out because Polkey was always the one who would get us ready. It was hard for me not to have a 6-5 girl staring over you and just encouraging you."
"I think they realized a lot," Bonvicini said. "It's like their first practice, and then going through exhibition. So each time we do something, it's going to be a moment to get through. But I think we got better through this game."


Write a Letter to the Editor