Friday, November 4, 2005


BEAR DOWN BLITZ: Fiesty Cats battle unbeaten Bruins
Unbeaten Bruins haven't lost to Arizona since 20xx
The Arizona football team comes into tomorrow's Homecoming game against UCLA in somewhat unfamiliar territory.
It has nothing to do with the Bruins' No. 7 national ranking - the Wildcats have already played four Top-25 teams this season.
It has more to do with the win Arizona is coming off.
For just the second time this season and the sixth in head coach Mike Stoops' tenure, the Wildcats (2-6, 1-4 Pacific 10 Conference) enter a game after winning the previous week, as they did Saturday at Oregon State. [Read article]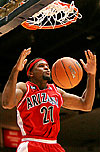 Red-Blue Game wrapup: Upperclassmen triumph by 20
Adams' 22 lead Red squad in win
Even with an early surge by the young Blue Team, highlighted by inspired play from freshman forward Marcus Williams, the veteran Red Team walked away with the Arizona men's basketball team's 2005 Red-Blue Game 91-71.
"If you take a look at the Red Team, you've got five guys in double figures, and that is really what we need," said Wildcats head coach Lute Olson. "With the Blue Team, we had two guys with eight (points) and three with double figures, so the thing that we feel is going to happen is we will have good balance (this season)." [Read article]




Volleyball seeks to keep heat on Devils
No. 8 Wildcats wary of season-ending letdown
Several times this season, members of the No. 8 Arizona volleyball team said it's been difficult to get motivated to play less competitive teams.
But the Wildcats (16-4, 8-3 Pacific 10 Conference) can't afford that mentality when they face ASU (7-14, 2-9) at 7 p.m. in McKale Center.
"Teams like ASU, and especially an in-state rival, always concern me because they'll come in real emotional and they'll be real aggressive," said Arizona head coach Dave Rubio. "If we're not ready to play, than it could be a real challenge for us." [Read article]




Soccer's title hopes rest on SoCal sweep
It isn't going to be easy, but the Arizona soccer team goes into the final weekend of conference play with a legitimate shot at winning the Pacific 10 Conference.
Unfortunately for the Wildcats (9-5-3, 4-2-1 Pac-10), who meet No. 4 UCLA and Southern California in Los Angeles this weekend, so do four other teams.
"What's great about this weekend is we're still in contention to win the Pac-10 title," said Arizona head coach Dan Tobias. "The other part is (players) would all tell you we feel like we've yet to play our best 90 minutes this season." [Read article]




Women's hoops to battle D-II power Pomona in exhibition
In years past, the Arizona women's basketball team would schedule cupcake exhibition games against travel teams, matchups primed to become blowouts.
That's not the case this season, as the Wildcats play Division II heavyweight Cal Poly Pomona on Sunday at 2 p.m. in McKale Center.
"This is a great game for us," said Wildcats head coach Joan Bonvicini. "I decided not to play the travel teams anymore because it was hurting us. We weren't really getting better, and now we're going to play people who are good." [Read article]



Alumni staff picks
Best Wildcat sports memory
Maxx Wolfson: Gonzaga vs. Arizona: 2003 NCAA Tournament. Sitting press row at the single greatest sporting event I have ever seen in person at the 2003 NCAA Tournament game between Gonzaga and Arizona in Salt Lake City. Watching Luke Walton throwing up minutes before the game and then playing 45 minutes in the victory was amazing. Drinking Eegee's and (pick your choice of alcohol) at UA baseball games, any UA football win (very few). Taking the 2002 hoops team to the Tucson Zoo and the Madison trip come in a close second. [Read article]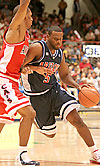 Red-Blue game analysis: McClellan draws strength from late father after injury
Despite nursing an injured ankle, sophomore guard Jawann McClellan had to play in the Arizona men's basketball team's Red-Blue Game last night, and there was only one reason.
His late father.
With his mother traveling from Houston to watch her son from the McKale Center stands, McClellan gritted his teeth and went to work.
"I'm not only playing for myself, I'm playing for somebody else," he said. [Read article]




2005 Arizona Hall of Fame: UA HoF to induct 12
As part of Arizona's Homecoming weekend, the University of Arizona Sports Hall of Fame will welcome eight former Wildcats and a national championship team in ceremonies today in McKale Center:
Jenna Daniels - Women's golf, 1996-2000: Daniels was instrumental in the Wildcats' second national championship earned in 2000, winning the individual title at the NCAA Championships by three strokes. She carried a 71.70 stroke per round average her senior season, finishing no lower than 15th in any tournament, as Arizona won its final eight events of the year. [Read article]




Icecats head to St. Louis
Squad looking to rediscover offense
The Arizona men's club ice hockey team hits the road for the second time this season against St. Louis today and tomorrow.
Icecats head coach Leo Golembiewski said he made a concerted effort this season to go out on the road and show other Division I teams in the American Collegiate Hockey Association that after two years out of the national spotlight, the Icecats are back. [Read article]



Opponent Analysis: Coach, offense ignite rapid Bruin turnaround
Though it has been a short one, Karl Dorrell's path in re-establishing No. 7 UCLA as a national football powerhouse has not been easy.
The former Bruins receiver became UCLA's third head coach in a nine-day span on Dec. 18, 2002, replacing interim coach Ed Kezirian, the replacement for the fired Bob Toledo.
Following successive mediocre seasons that saw the Bruins go 6-7 in 2003 with seven consecutive losses to close out the campaign, and a 6-6 2004 season that included a Las Vegas Bowl loss to Wyoming, many in the City of Angels were ready for yet another replacement at the helm of Bruin football. [Read article]




Bear Down Blitz: Freshman turning heads
DE Turner's lessons pay off in win over OSU
The Oregon State offense stood at the Arizona football team's 24-yard line with just under five minutes to go Saturday.
The Wildcats clung to a 29-27 lead, trying to hold on for their first Pacific 10 Conference win of the season, but the Beavers were in field-goal range, needing just a short kick to grab the lead.
In stepped defensive end Johnathan Turner. [Read article]




showAds('bigbutton')?>







showAds('mediumbutton')?>

showAds('wildlinks')?>