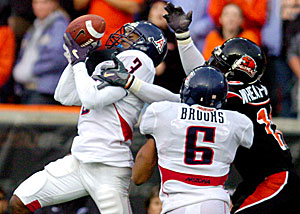 Chris Coduto/Arizona Daily Wildcat

Arizona cornerback Wilrey Fontenot intercepts an Oregon State pass intended for Anthony Wheat-Brown (17) during the second half of Arizona's 29-27 win over Oregon State on Saturday at Reser Stadium in Corvallis, Ore. Fontenot and the Wildcats are looking for an upset in tomorrow's Homecoming game against UCLA.

By Charles Renning
Arizona Daily Wildcat
Friday, November 4, 2005
Print this


Unbeaten Bruins haven't lost to Arizona since 20xx

The Arizona football team comes into tomorrow's Homecoming game against UCLA in somewhat unfamiliar territory.

It has nothing to do with the Bruins' No. 7 national ranking - the Wildcats have already played four Top-25 teams this season.

It has more to do with the win Arizona is coming off.

For just the second time this season and the sixth in head coach Mike Stoops' tenure, the Wildcats (2-6, 1-4 Pacific 10 Conference) enter a game after winning the previous week, as they did Saturday at Oregon State.

Stoops has yet to win back-to-back games in Tucson, and it will be tough to start a winning streak with undefeated UCLA (8-0, 5-0) coming to Arizona Stadium at 4 p.m.

However, several Wildcats said that the 29-27 victory over the Beavers should give the team confidence tomorrow.

"(The win) is going to mean a lot heading into the next game," said junior safety Marcus Hollingsworth. "We just have to take what we have now and go forward. They're undefeated, but anybody can be beat. I think it's going to be a great challenge."

"This challenge is what we need right now," said redshirt freshman linebacker Ronnie Palmer. "We're going to have to play a perfect game in all phases."

The Bruins sport a spotless record thanks largely to their play in the fourth quarter, coming back in four of their eight wins.

"That shows great toughness, character and poise on their part," Stoops said. "They execute really well down the stretch."

Game Info

No. 7 UCLA at Arizona
4 p.m. tomorrow
Arizona Stadium
Both players and coaches said it will be imperative for Arizona to play an entire 60 minutes and not get complacent if the team has a fourth-quarter lead.
"We've got to jump on UCLA quick," said sophomore receiver B.J. Dennard.
UCLA is coming off a 30-27 overtime win over Stanford in Palo Alto, Calif., and bring in the nation's No. 5 scoring offense behind running back Maurice Drew and quarterback Drew Olson.
The Bruins are putting up 42.6 points a contest, while Drew (184.2 total yards per game) trails only Southern California's Reggie Bush in all-purpose yardage among Pac-10 players.
"They show great maturity on the football field, and that's because they've been around a long time and know what their capabilities are," Stoops said.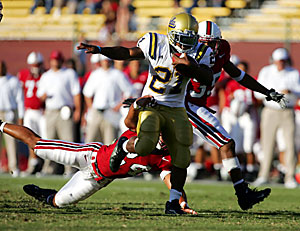 Jacob Konst/Arizona Daily Wildcat
Freshman QB Willie Tuitama will need every weapon in the Cats' arsenal to match UCLA's high-powered offense, which is averaging 42.6 points per game.
Last season, Arizona was able to limit Drew to just 22 yards on 11 carries, which Stoops said was a result of his defense being disciplined and filling gaps on zone-run plays.
Even if the Wildcats are successful stopping the run tomorrow, they will have to face the pass-catch combo in Olson and tight end Marcedes Lewis that torched the Arizona defense last year.
Lewis hauled in three scores a year ago in the Bruins' 37-17 win in Los Angeles.
Stoops said Olson has made strides from last season in not forcing passes into coverage.
"He's very efficient in everything he does and make very few mistakes," Stoops said.
Olson leads the Pac-10 in touchdown passes (23) and completion percentage (67.3) while having thrown only three interceptions.


Write a Letter to the Editor