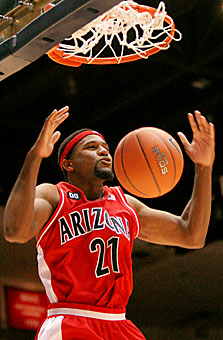 Jacob Konst/Arizona Daily Wildcat

Senior guard Hassan Adams descends from a dunk during last night's Red-Blue Game. Adams scored 22 points as the Red team won 91-71.

By Shane Bacon
Arizona Daily Wildcat
Friday, November 4, 2005
Print this


Adams' 22 lead Red squad in win

Even with an early surge by the young Blue Team, highlighted by inspired play from freshman forward Marcus Williams, the veteran Red Team walked away with the Arizona men's basketball team's 2005 Red-Blue Game 91-71.

"If you take a look at the Red Team, you've got five guys in double figures, and that is really what we need," said Wildcats head coach Lute Olson. "With the Blue Team, we had two guys with eight (points) and three with double figures, so the thing that we feel is going to happen is we will have good balance (this season)."

Senior guard Chris Rodgers had 12 first-half points for the Red Team and ended up with 17, knocking down 3-of-6 3-pointers.

Rodgers' play added a spark missing in last month's McKale Madness, which he sat out with a right knee sprain.

"I had some good looks tonight," Rodgers said. "(My knee) is feeling better and I've been rehabbing strong. My teammates did a good job of finding me and I just knocked down some shots."

Senior Hassan Adams led all scorers with 22 points on 9-of-15 shooting for the Red Team, hitting three of four shots from downtown.

Adams started out the night quiet, but began knocking down outside jumpers and threw down some ferocious alley-oops courtesy of junior guard Mustafa Shakur.

"I try to get it above the rim (with Adams)," Shakur said. "You still have to throw it in the vicinity, but with Hassan, you have room for error."

Shakur finished the game with 10 points and 11 assists.

"I only took six shots and missed some open ones, but what I did do, I played good defense and got everybody involved," he said.

Williams led the Blue Team with 21 points on 8-of-15 shooting, but had six turnovers, something Olson said he needed to improve on.

"Most of the (turnovers) were when he ended up getting out of control and going to the basket," Olson said. "But he's going to really be good because he's very coachable."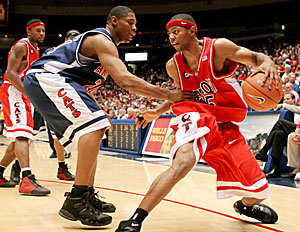 Jacob Konst/Arizona Daily Wildcat
Junior guard Mustafa Shakur, right, pivots around freshman forward Fendi Onobun during the second half of the Red team's win last night in McKale Center.
The game was competitive throughout the first half, but as the game progressed, the players started to show that it was still a scrimmage among teammates.
The Blue Team opened the game with a 7-0 run, led by a deep 3-pointer by freshman guard J.P. Prince and four points from Williams.
The Red Team fired back with a 17-2 run, as seniors Chris Rodgers and Hassan Adams combined for 12 points over 6:25.
The game was in question with 5:17 left in the first half and the teams tied at 26, but the Red Team finished the half on a 17-4 run.
"It was competitive up until the Red Team started blowing the Blue Team out," redshirt senior forward Isaiah Fox said with a smile. "Then we started having fun with it, but the whole first half was competitive."
Even with the teams separated by jersey color, Adams continued to congratulate some of the younger players on good hustle plays and lock-down defense.
"That is what this game is about, is just getting everybody on the right page whatever team you're on," he said. "That's what I was telling J.P. and Marcus, just keep going hard, because in games we're going to be down like that and we need everybody to say, 'Let's go.'"


Write a Letter to the Editor