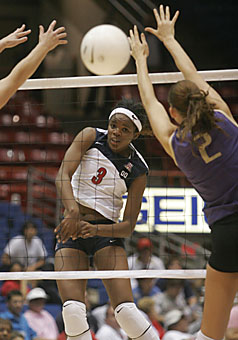 Josh Fields/Arizona Daily Wildcat

Senior outside hitter Jennifer Abernathy spikes the ball during the Wildcats' game against Washington on Oct. 27 in McKale Center. The Wildcats face ASU tonight in McKale Center at 7.

By Lindsey Frazier
Arizona Daily Wildcat
Friday, November 4, 2005
Print this


No. 8 Wildcats wary of season-ending letdown

Several times this season, members of the No. 8 Arizona volleyball team said it's been difficult to get motivated to play less competitive teams.

But the Wildcats (16-4, 8-3 Pacific 10 Conference) can't afford that mentality when they face ASU (7-14, 2-9) at 7 p.m. in McKale Center.

"Teams like ASU, and especially an in-state rival, always concern me because they'll come in real emotional and they'll be real aggressive," said Arizona head coach Dave Rubio. "If we're not ready to play, than it could be a real challenge for us."

Although the Sun Devils sit in seventh place in the competitive Pac-10, Rubio said they have made significant strides since the Wildcats swept them in Tempe on Oct. 7.

"I don't think that they're just giving up on the season," he said. "I think they're doing a good job of keeping heads up and building for the future. I think in our conference, it's real easy to get down when you don't win a lot. And it doesn't look like that's happened with them."

Any time you suit it up against ASU, there's going to be a little more emotion than normal.
- Dave Rubio, volleyball head coach

Rubio added that ASU is relying largely on its nine underclassmen this season.
"They're a little undersized in the conference, but I think they make that up with the speed of their offense and the type of defense they play," he said. "They're a very good passing team and a very good serving team. Those two things tend to neutralize the playing field a little bit."
Junior outside hitter Nicole Morton provides some experience for the Sun Devils, leading the team with 3.12 kills per game, and sophomore libero Sydney Donahue averages 6.08 digs per game.
"It's different when they come down here," said senior middle blocker Bre Ladd. "We always need to play a lot more consistent, and they tend to play less motivated as when they do in front of their home crowd."
"Any time you suit it up against ASU, there's going to be a little more emotion in the game than normal," Rubio said. "It's always something special when you're playing against your in-state rival."
After sitting out for nearly two months with an injured medial collateral ligament, junior setter Stephanie Butkus is at 100 percent and competing for a starting role with sophomore setter Amy Dyck.
Game Info
ASU (7-14, 2-9 Pac-10)
at No. 8 Arizona (16-4, 8-3)
Today, 7 p.m.
McKale Center
"Last week was a week to get my feet underneath me and get back into volleyball," Butkus said. "I'd say I'm in full competition for a starting position again."
Rubio said that unlike other positions, it is difficult to switch setters over the course of a match because it disrupts the flow of the game.
"(Butkus and Dyck are) both so different," he said. "They're not like setters. They're different types of athletes, and they set the ball in a different rhythm. You really can't interchange them without suffering some type of (negative) transition."


Write a Letter to the Editor