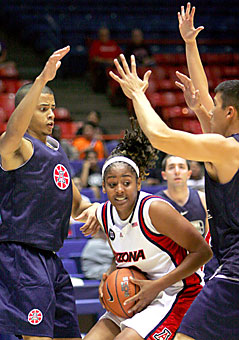 Chris Coduto/Arizona Daily Wildcat

Arizona's Ché Oh drives between two defenders during the women's basketball team's Red-Blue Game on Tuesday night in McKale Center. The Wildcats will take on Cal Poly Pomona in Sunday's exhibition game.

By Michael Schwartz
Arizona Daily Wildcat
Friday, November 4, 2005
Print this


In years past, the Arizona women's basketball team would schedule cupcake exhibition games against travel teams, matchups primed to become blowouts.

That's not the case this season, as the Wildcats play Division II heavyweight Cal Poly Pomona on Sunday at 2 p.m. in McKale Center.

"This is a great game for us," said Wildcats head coach Joan Bonvicini. "I decided not to play the travel teams anymore because it was hurting us. We weren't really getting better, and now we're going to play people who are good."

The Broncos have the most national titles (five) and playoff wins (48) in Division II history, including back-to-back titles in 2001 and 2002.

Bonvicini called Pomona an excellent program, having qualified for the playoffs eight of the past nine seasons, including last year when it finished the season 20-8.

"They're a powerhouse in Division II, and they're going to come, they're going to bring it," said sophomore forward Ché Oh. "They're really excited to play us, and we're not going to overlook them at all."

"There's a lot of pressure, but at the same time, this game is just a learning experience for us," she said.

Pomona's band will make the trip to Tucson and play at a pregame luncheon for alumni, Bonvicini said.

"For them this is the biggest game probably on their schedule," she said. "It's a big game for us, too."

The game will be special for Bonvicini, as she faces the school at which she started her coaching career. She coached two years as a Bronco assistant after graduating from Southern Connecticut State and still has contacts there, she said.

Game info

Cal Poly Pomona at Arizona
(exhibition game)
Sunday, 2 p.m.
McKale Center
The game also marks the first time the Wildcats will take the floor against an opposing team without center Shawntinice Polk, who died Sept. 26.
The team came out flat offensively in Tuesday's Red-Blue Game, falling behind 16-2 early, as they appeared to struggle without Polk on the court.
"I think it'll be hard at first (to play Sunday), but she'd want us to get out there and play hard for her, so we're just going to go out there and do our best," Oh said.
The team settled down as the game went on, eventually falling to its male practice squad 85-80 in double overtime.
"We just need to get through this," Bonvicini said. "That's why you play these games, particularly for this year and for now. We need these games to prepare us for the regular games."
Oh said she's excited to face competition that does not have "Arizona" across its jerseys.
"I think everyone has a lot to look forward to," she said. "It should be a great show."
The Wildcats face a Pomona squad that lost Division II Player of the Year and two-time Division II scoring leader Candice Allen, but they return seven players overall and three starters, including senior guard Shanika Perkins and fellow senior Alexis Wilson, a 6-1 forward with whom Oh will contend.
"I think it'll give us time to really see how our offense and our defense will work," Oh said. "Even though they're a small school, it'll be good for us to see what we're up against. They have a lot of big girls on their team, too."
Bonvicini said that Pomona plays a similar style to Arizona, which hopes to push the pace this year with an aggressive full-court press.
Although the Wildcats forced 30 turnovers in the Red-Blue Game, sophomore guard Ashley Whisonant said the team's press needs improvement after allowing numerous easy baskets.
"We got killed in our press defense," she said. "We need to work on where to go (and) who goes where."
While this exhibition will not count in the standings, it could be the biggest game of the season for the Broncos, who look for respect against a Division I opponent after dominating the Division II ranks for years.
"I look forward to challenges. ... It'll definitely give us the outlook on what our season's going to be like, and that'll be our first test," Oh said.


Write a Letter to the Editor