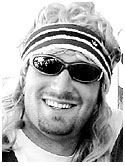 Maxx Wolfson
former sports editor

Arizona Daily Wildcat
Friday, November 4, 2005
Print this


Best Wildcat sports memory

Maxx Wolfson: Gonzaga vs. Arizona: 2003 NCAA Tournament. Sitting press row at the single greatest sporting event I have ever seen in person at the 2003 NCAA Tournament game between Gonzaga and Arizona in Salt Lake City. Watching Luke Walton throwing up minutes before the game and then playing 45 minutes in the victory was amazing. Drinking Eegee's and (pick your choice of alcohol) at UA baseball games, any UA football win (very few). Taking the 2002 hoops team to the Tucson Zoo and the Madison trip come in a close second.

Dave Stevenson: Day after 2001 national title game. Tuesday morning the day after the men's basketball team lost the National Championship game to Duke in 2001. It was a tough season, with a few suspensions and the loss of Bobbi Olson, but the team and community rallied. The school burst with enthusiasm and the bars were filled six hours before tip-off. But on Tuesday the pain set in on campus and everyone moped throughout the day. On that mournful morning I learned the Wildcat family celebrates and bleeds together.

Ryan Finley: 2001 Final Four. Fall 1998. Freshman year. I was just getting used to the hot Tucson summer when the Wildcats held their first football game of the season, against Iowa. I left my dormitory, dressed up in my newly purchased red Arizona shirt and made my way to the ... WHAT THE HELL AM I TALKING ABOUT? 2001 Final Four! Woooooo!

2005-06 men's hoops outlook

Maxx Wolfson: Elite Eight. Ahh, the nightmares will finally end - I hope. The Cats may have lost two to the NBA but now have as much depth as Isaiah Fox's stomach had last year. With all the speed Arizona has, the squad should be as fun to watch as an episode of "Lost." But as in "Lost," the team does have a lot of questions remaining to be answered. Like, how did Fox lose all that weight?

Dave Stevenson: At least the Sweet 16. Hate to break it, but I will be vacationing in Maui for Thanksgiving week and will be in attendance for Arizona's first game against Kansas. Jealous? This roster is stacked with guards, which is primed for a March run, and the Wildcats might make the Elite Eight again, to much surprise. Two more weeks until mai tais and basketball. Mahalo.

Ryan Finley: Sweet 16. What's not to like? This team is as athletic as any the Wildcats have had in years and should be able to run the floor with the best teams in the country. One big concern here might be leadership. If Hassan Adams can step into the shoes vacated by Channing Frye and Salim Stoudamire - well, maybe just Frye - Arizona will be fine. If not, look for the Wildcats to become a national punch line again. And what gives with that? Wasn't Santa Clara like 14 years ago?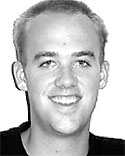 Dave Stevenson
former sports writer
Will Willie Tuitama win Arizona a national title?
Maxx Wolfson: Nope, just a bowl game. A national title might be wishful thinking, but please, Willie T., get the UA to a bowl game. Because Saturday's game wasn't televised, I had to ask my brother's friend's cousin's baby-mama's brother who goes to Oregon State how the Chosen One looked. He said, "The kid is legit and he sure stuck it to the Beavers." Get it? Wow, that never gets old.
Dave Stevenson: Yes. Arizona has never had a football player like Tuitama resurrect the season. Unlike former recent great players like Dennis Northcutt, Clarence Farmer, Mike McDonald and Chris McAllister, Willie has given everyone hope with his skills and popularity. He alone is the reason for tomorrow's packed stands. With the combination of him, three more Stoops recruiting classes and overwhelming, why not us?
Ryan Finley: Probably not. Willie Tuitama is the best thing to happen to the UA since John Mackov-, er, Nic Cost-, er, Richard Koval- ... well, the kid's good, leave it at that. But while he's talented, Tuitama has as much chance of winning a national title at this point as I do of playing outside hitter for Dave Rubio's volleyball team. For now, Big Willie should focus on getting his Wildcats to a bowl game before his eligibility expires. We can talk about national championships later.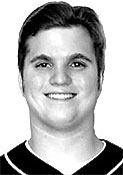 Ryan Finley
former sports editor, editor in chief
UCLA at Arizona
Maxx Wolfson: Arizona wins. Welcome to Tucson, baby! My girlfriend, a lifelong UCLA fan, is making her first trip to the Old Pueblo this weekend to finally see why I am still so obsessed with the UA. Saturday afternoon she will find out why when she sees 54,000-plus all wearing red and watching history in the making. Tui will introduce himself to the rest of the nation as the Cats shock the Bruins in OT. Bear Down!
Dave Stevenson: Arizona 41, UCLA 33. UCLA has a lot more to lose tomorrow, and the Bruins might be out of fourth-quarter comebacks after slipping by Stanford last week. All of the ingredients are here for a potential upset: an unlikely undefeated BCS team that has eked out wins, a hot new Arizona quarterback, a sold-out Arizona Stadium and Homecoming weekend. (This fenced drinking area blows. Thank you, underage drinkers, for caging us alumni.)
Ryan Finley: UCLA 31, Arizona 30. At 2 p.m. yesterday, I headed to the airport to pick up my little brother, who is a UCLA junior and convinced that the Bruins are the best team in the country. Chris, the Bruins aren't even the best team in L.A.! Here's hoping that tailbacks Mike Bell and Gilbert Harris can get their butts in gear and stick it to the conference's worst run defense. If not, the Wildcats - and one pissed-off older brother - will be in for a long night.


Write a Letter to the Editor