Monday, November 7, 2005


Bears downed: UA routs UCLA 52-14
Zona Zoo goes wild, storms field in upset
Arizona Stadium was the site of the largest 2005 Homecoming week celebration for faithful Wildcat football fans.
With two minutes remaining in Saturday night's football game and Arizona leading No. 14 UCLA 52-14, hundreds of UA students hopped the barricades and joined the team on the sidelines to revel in the upset win.
"This is one of the best fan games ever," said senior defensive end Copeland Bryan. "It was great to hear them calling out 'five seconds, four seconds' when the clock was running down. They just really got into the game and helped us out." [Read article]



Crews mop up after Homecoming
Homecoming is the messiest UA event of the year, and while students and alumni anxiously await the event, the cleanup is not something facilities management personnel look forward to.
UA Landscape Manager Rebecca Flores said the five to six tons of garbage generated during Homecoming Week is far more than is created at any other UA activity or celebration.
Cleaning up this year's mess required the assistance of about 10 groundskeepers who worked from 6 a.m. to 6 p.m. Saturday, and an additional six to eight hours yesterday tidying up the UA Mall, surrounding parking lots and any other part of campus the celebration had reached. [Read article]




Groups march to honor lives lost crossing Mexico border
More than 100 march, carry crosses to mission
Tucsonans observed Dia de los Muertos on Saturday, honoring those who have died during the dangerous trek across the Mexican-American border, as part of a weekend full of celebration and remembrance.
Dia de los Muertos, or Day of the Dead, is a celebration that traces its roots back thousands of years to Aztec and other Meso-American civilizations, which celebrated death as an awakening to another stage of life. [Read article]



Quick Hits
Student wins scholarship
A UA student has been awarded one of two UA Cares Graduate Scholarships for 2005. Amanda Plourde, a civil engineering graduate student, received a $6,000 scholarship from UA Cares for her public service work.
Plourde served two years in the Peace Corps in Ghana, is president of UA's chapter of Engineers Without Borders and is a Peace Corps Fellow.
Last spring semester, Plourde's internship involved helping the Tohono O'odham American Indian tribe explore green building options for a senior citizens' complex. She researched straw-bale, rammed-earth, cast-earth and adobe building technologies. She also explored building orientation and solar power as additional components of "green" building design. [Read article]




Fire guts shed on University
A fire broke out late Saturday morning in a storage unit near East University Boulevard and North Fourth Avenue, giving neighboring students a scare.
No one was injured in the fire, but it left $80,000 in damages to the barnlike structure, which appeared to have been used as a photo lab, said Capt. Paul McDonough, a Tucson Fire Department spokesman. TFD suspects arson.
Police have no suspects but are investigating the case, McDonough said. [Read article]




Fiesta Bowl queen represents UA
A UA student was crowned the 2006 Fiesta Bowl queen last week, a change from last year when an ASU student was chosen.
Jeanine Zelik, a social studies senior, said it is a "huge honor" to represent the UA as queen of the Fiesta Bowl.
"I feel very privileged and honored to be a part of this court," Zelik said.
The Tostitos Fiesta Bowl, one of the four games in the Bowl Championship Series, will be held in Tempe on Jan. 2. [Read article]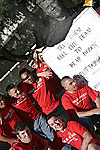 Frat honors famous alum
The Sigma Nu fraternity celebrated receiving its campus charter back by pinning the statue of John "Button" Salmon outside of McKale Center on Saturday.
"Button Salmon was the most famous Sigma Nu on campus," said Sigma Nu alumnus Bob Shaff who graduated in 1962. "This is a great way to honor him and his ties to (the fraternity)."
Salmon, the man who coined the phrase "bear down," was a member of the Sigma Nu fraternity before he died from injuries he received in a car accident in 1926. [Read article]



Senate may decide on new major
The Faculty Senate plans to meet today to discuss new policies and a potential new major, Africana studies.
The senate will discuss whether or not to add Africana studies as a major, and if so, the senate will have to decide which college the major will belong to.
Currently there are Africana studies courses for a minor in the College of Social and Behavioral Sciences and also the College of Humanities. [Read article]




Fast Facts
Things you've always never wanted to know
Alcoholics are twice as likely to confess a drinking problem to a computer than to a doctor.
"Soldier's disease" is a term for morphine addiction. The Civil War produced more than 400,000 morphine addicts.
Levi Hutchins of Concord, N.H., invented the first alarm clock in 1787. It only rang at 4 a.m. because that's what time he got up. [Read article]




showAds('bigbutton')?>







showAds('mediumbutton')?>

showAds('wildlinks')?>