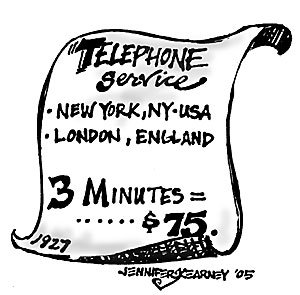 Illustration by Jennifer Kearney

Arizona Daily Wildcat
Monday, November 7, 2005
Print this


Things you've always never wanted to know
Alcoholics are twice as likely to confess a drinking problem to a computer than to a doctor.
"Soldier's disease" is a term for morphine addiction. The Civil War produced more than 400,000 morphine addicts.
Levi Hutchins of Concord, N.H., invented the first alarm clock in 1787. It only rang at 4 a.m. because that's what time he got up.
President Ulysses S. Grant was once arrested during his term of office. He was convicted of exceeding the Washington speed limit on his horse and was fined $20.
When commercial telephone service was introduced between New York and London in 1927, the first three minutes of a call cost $75.
In the 1936 Swathing Cup Match in table tennis, Alex Ehrlich of Poland and Paneth Farcas of Romania volleyed for two hours, 12 minutes on the opening serve.
On a hot afternoon, the atmosphere draws up 5.5 billion gallons of water an hour from the Gulf of Mexico.
The striped skunk can fire its musk stream accurately for up to 12 feet — even farther if there's a cooperative downwind.
The junk mail Americans receive in one day could produce enough energy to heat 250,000 homes.
Most of the 3,500 known species of cockroaches flee from danger, often exceeding a scale 200 mph. One species can roll up into a ball when threatened.
Muhammad Ali was the composer of numerous self-admiring verses — "Float like a butterfly, sting like a bee." He was once invited to lecture on poetry at Oxford University.
An average snake is capable of eating an animal four times larger than the width of its own head.
Attila the Hun was a dwarf. Aesop, Gregory of Tours, Charles III of Naples, Pasha Hussain and Pepin the Short were all less than 3 1/2 feet tall.
A fully loaded supertanker traveling at a normal speed of 16 knots needs at least 20 minutes to stop.


Write a Letter to the Editor









showAds('bigbutton')?>

showAds('mediumbutton')?>

showAds('wildlinks')?>