Monday, November 7, 2005


Home sweet Homecoming
Cats' ground game tramples Bruins
Senior running back Mike Bell's flip into the end zone in the third quarter Saturday at Arizona Stadium seemed to epitomize the struggle the Arizona football team had finally overcome: With a defender between the Wildcats and their goal, they finally got over the hump.
Bell rushed for 153 yards on 16 carries, including the touchdown, and fellow senior Gilbert Harris had a career-high 113 yards and a score, as Arizona rolled to a 52-14 upset of No. 14 UCLA in front of 55,775 fans. [Read article]



Analysis: Wildcats demonstrate domination
A dictionary definition for "domination" is "exercise of mastery or ruling power."
In the wake of Arizona's 52-14 trouncing of No. 14 UCLA, a more modern definition might read, "Arizona vs. UCLA: Saturday, Nov. 5, 2005."
Arizona began the night by winning the opening coin toss, deferring possession to UCLA and proceeded to win everything thereafter.
"We were most prepared for this game, more than any other game," said senior running back Mike Bell. [Read article]




'Amazing' defense stifles UCLA
Practice keys stellar game-day performance for Arizona 'D'
With 4:09 to play in Saturday's third quarter, junior safety Marcus Hollingsworth was celebrating in the end zone after UCLA quarterback Drew Olson threw what at first appeared to be an incomplete pass, bringing up fourth down.
In midcelebration however, Hollingsworth turned around and saw teammate Wilrey Fontenot screaming at him. [Read article]



Top Cats
The best of the weekend's athletic performances
Football: Willie Tuitama
No. 7 • Quarterback Threw for 204 yards and two touchdowns against No. 14 UCLA
Football: Mike Bell
No. 11 • Running back Rushed for 153 yards on 16 carries with a touchdown against UCLA [Read article]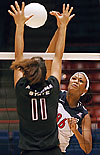 Volleyball sweeps ASU again
Rubio likens team to 2001 Final Four squad after season sweep of Sun Devils
It was déjà vu all over again for the No. 8 Arizona volleyball team in its 30-25, 30-25, 30-24 sweep over ASU on Friday night in McKale Center.
The Wildcats (17-4, 9-3 Pacific 10 Conference) repeated the feat they accomplished earlier in the season, as Arizona swept the Sun Devils (7-15, 2-10) on Oct. 7 at Wells Fargo Arena in Tempe by the exact same score. [Read article]




Game-winning shots haunt soccer in L.A.
Soccer to learn of at-large bid status today
Los Angeles — For 88 minutes, 24 seconds against USC yesterday, the Arizona soccer team held U.S. national team member and USC freshman forward Amy Rodriguez scoreless.
Unfortunately for Arizona, soccer games last 90 minutes.
Rodriguez got a cross from midfielder Rosa Anna Tantillo, an under-20 national team member, and scored from about 10 yards out to defeat the Wildcats 1-0 yesterday. [Read article]




Women's hoops rolls in exhibition opener
Turnovers ignite 18-point blowout of D-II powerhouse
The Arizona women's basketball team got off to a fast start against Cal Poly Pomona yesterday in McKale Center, rolling to a 93-73 victory in the Wildcats' first exhibition game this season.
Arizona forced the Division II power into 31 turnovers, racking up 20 steals, while fast-breaking its way to the easy victory.
"I think that's what defines Arizona women's basketball," said senior guard Natalie Jones. "We've always been a fast-paced team." [Read article]




Icecats fire away in St. Louis romps
The No. 13 Arizona men's club hockey team scorched the ice for 18 goals over the weekend against Saint Louis, sweeping the Billikens to move its season record to 5-2.
Senior defenseman Cole Dunlop, a St. Louis native, felt right at home in Saturday's 6-2 victory, finishing with a hat trick.
Freshman defenseman Zack Stommen scored his first collegiate goal, and freshman forward Robbie Nowinski tacked on two more goals as Arizona kept the heat on Saint Louis, out-shooting them 45-23. [Read article]




Senior backfield leads running renaissance
Bell, Harris both surpass century mark rushing as Cats post season best
Mike Bell did plenty of carrying Saturday night in Arizona's 52-14 win over No. 14 UCLA.
The senior running back from Tolleson High School carried the ball 16 times for 153 yards and a spectacular touchdown that saw the Wildcats' leading rusher perform a full flip into the end zone.
But when it was all said and done, it was Bell who was being carried. [Read article]




showAds('bigbutton')?>







showAds('mediumbutton')?>

showAds('wildlinks')?>