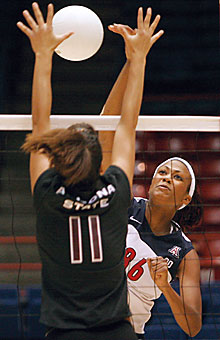 Jacob Konst/Arizona Daily Wildcat

Senior outside hitter Kim Glass led the Wildcats with a match-high 24 kills Friday against ASU in McKale Center. Arizona won 30-25, 30-25, 30-24.

By Lindsey Frazier
Arizona Daily Wildcat
Monday, November 7, 2005
Print this


Rubio likens team to 2001 Final Four squad after season sweep of Sun Devils

It was déjà vu all over again for the No. 8 Arizona volleyball team in its 30-25, 30-25, 30-24 sweep over ASU on Friday night in McKale Center.

The Wildcats (17-4, 9-3 Pacific 10 Conference) repeated the feat they accomplished earlier in the season, as Arizona swept the Sun Devils (7-15, 2-10) on Oct. 7 at Wells Fargo Arena in Tempe by the exact same score.

Arizona head coach Dave Rubio said the feeling he got from the weekend's match was reminiscent of the emotions he experienced with the 2001 Wildcat squad that advanced to the Final Four.

"Tonight I felt like the players never even considered losing this match, even when it was kind of close," he said. "Tonight I felt like we were always in control of the match. I never felt like I was nervous that we weren't going to pull it out."

It was a close third game at the start, as Arizona only led by one point, 14-13.

Senior outside hitter Kim Glass got a service ace to make it 21-15, and moments later, senior outside hitter Jennifer Abernathy followed suit to put Arizona up 28-18.

Weekend Recap

No. 8 Arizona sweeps ASU
OH Kim Glass: 24 kills,
10 digs, .367 hitting percentage
OH Jennifer Abernathy:
14 kills, 9 digs
OH Jennifer Abernathy:
14 kills, 9 digs

S Amy Dyck: 40 assists, 8 digs,
5 kills, 1.000 hitting percentage
The Wildcats closed out the victory with a Glass kill.
"I don't think that they should have gotten above 20 (points)," said Glass, who tallied a team-high 24 kills on .367 hitting with 10 digs. "I think that we could have finished it instead of prolonging the game."
After trailing early in the second game, Arizona pulled ahead 18-8 on a long serve by the Sun Devils. The Wildcats had difficulty closing out the win, as ASU scored six unanswered points once Arizona reached game point.
"We didn't take advantage of our opportunities to finish the game," said sophomore setter Amy Dyck. "We just need to take advantage of opportunities when we can finish the game out.

Tonight I felt like we were always in control … I've coached some great teams, and I think this is one of those great teams. — Dave Rubio, volleyball head coach

"I think that's our one weakness — being consistent throughout the whole match," she said.
Abernathy collected 14 kills and nine digs, while Dyck had 40 assists, eight digs and five kills on five attempts with no errors for a perfect hitting percentage.
Rubio said that as Arizona continues to improve, the improvements become more specific and less visible.
"I've coached some great teams, and I think this is one of those great teams when I look back in a couple years — like I do with the 2001 team," he said. "The ingredients are here, the pieces are here. Maybe the pieces aren't as polished right now, but they're getting better and getting more polished and fine-tuned."
Arizona has a difficult road ahead, as it heads to the Bay Area to take on No. 4 Stanford and No. 18 California on Thursday and Friday, respectively.


Write a Letter to the Editor